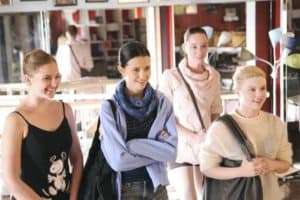 Now that the land matter between Michelle and Fanny has been resolved, you'd think that the two would be mostly on pretty good terms. They might not see eye to eye on everything, but they managed to find a compromise that suited both of them and the tragedy that they experienced together must have bonded them, even a tiny bit. But on just the next three episodes of Bunheads, Michelle tries to keep her distance from Fanny, almost cuts out a festival/ballet that has become Paradise tradition, and has her birthday plans derailed by Fanny, so the two will be continuing to butt heads for the foreseeable future. Can the dance teacher and the former showgirl ever get along?
Listed below are the dates, initial airings, episode names, and episode descriptions for the next three episodes of Bunheads.
Monday, July 09
9:00 PM-10:00 PM EST
"Better Luck Next Year"
Michelle tries out a new living arrangement that gives her some distance from her new mother-in-law. And Fanny is beside herself when the Joffrey Ballet threatens to move Summer Program auditions to another city because the dance floor studio is not up to par. Meanwhile, Boo tries to convince her mom that she'll nail her audition.
Monday, July 16
9:00 PM-10:00 PM EST
"Money For Nothing"
Michelle is concerned when she discovers that Fanny's bill-paying method includes old hat boxes and unconventional payment plans. After she finds herself in the middle of the collection process, Michelle decides to help Fanny better manage her finances. But Michelle's efforts could end up jeopardizing the upcoming Spring Flower Festival and Fanny's original ballet, "Paper or Plastic." Meanwhile, Boo's relationship with the hot bartender (guest star Nathan Parsons "General Hospital") at her new job makes the girls jealous.
Monday, July 23
9:00 PM-10:00 PM EST
"Movie Truck"
When Michelle's friend, Talia (guest star Angelina McCoy, "Nowhere Fast"), comes to town, their plans for a raucous birthday road trip are derailed by Fanny, who has left for an unexpected vacation, putting Michelle in charge of her dance classes. Michelle's birthday plans go even further off-track when Talia discovers Truly's clothing boutique, Sparkles. Meanwhile, the girls sneak into the visiting movie truck to see an R-rated movie.
Bunheads airs Mondays at 9:00 on ABC Family. You can check out my review of the most recent episode here.
How have you been enjoying Bunheads thus far? Do you think Boo has what it takes to make it into Joffrey? Will Talia's visit make Michelle miss Vegas?