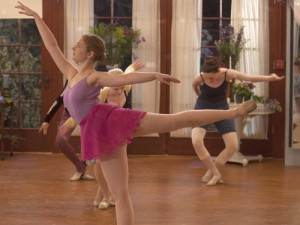 Though we may have left the world of Stars Hollow behind, it seems that Gilmore Girls has not quite been left behind, thanks in part to some recent Bunheads casting.
According to TV Line, Chris Eigeman (aka "Digger", a former boyfriend of Lorelei's) will be making a guest appearance on the latest series from Amy Sherman-Palladino. Eigeman will reportedly be playing a play director of a production that Michelle and Fanny attend in an episode that will air at the end of July. Perhaps this is a minor preview at the direction their relationship is going to take?
Another former Gilmore guy joining Bunheads, albeit for a short stay in Paradise, is Todd Lowe, best known for playing kindhearted Terry Bellefleur on HBO's True Blood. As indicated in an interview with The Los Angeles Times, Lowe (aka Lane's husband Zach) will be popping up as a one-eyed plumber. There's no word on how he'll playing into Fanny and Michelle's world, but I'm guessing that The House That Hubbell Built is going to need some fixing up sooner or later.
Other former Gilmore actors already cast in Bunheads are Kelly Bishop (aka Emily Gilmore) and Rose Abdoo (aka Gypsy the mechanic), with more likely to pop by sometime in the near future.
It's nice to see the world of Paradise, California gradually being filled out and life after Hubbell Flowers beginning to take shape, particularly with actors already comfortable with the rhythms of Sherman-Palladino's distinct writing. That could help the show get on its feet a little faster, as well as entice the Gilmore faithful to come take a journey into the heart of another quirky small town.
Bunheads airs Mondays at 9:00 on ABC Family. You can check out my review of the pilot here, as well as sneak peeks from episode two here.
How did you enjoy the pilot of Bunheads? Are you looking forward to seeing more Gilmore Girls favorites make a cameo appearance (or join the cast for good)? Which Gilmore alumni that haven't already been cast would you like to see drop by?