[FLOWPLAYER=http://www.tvovermind.com/wp-content/uploads/2012/12/bhd-111-1.jpg|http://www.tvovermind.com/wp-content/uploads/2012/12/BHD1011_fv1.h264HD-Clip1.flv,440,280]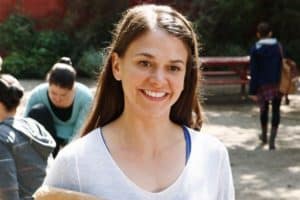 The summer finale of Bunheads found the Paradise Dance Academy facing arguably its toughest challenge yet. For all the worry about plumbing, competitions, and pleasing Fanny, the bunheads had been growing closer to Michelle ever since she began teaching; everyone was still adjusting to their new roles, but Michelle found a sense of purpose in her new career path and the girls found a renewed sense of passion in having a relatable, compassionate mentor.
However, that all changed with the accident at the Christmas performance and subsequent parental outrage, which led to Michelle quitting and walking out on her life in Paradise. When Bunheads returns for its winter season, the former dancer is now working for a cheesy magician in Nevada, a move of necessity that nonetheless leaves her unfulfilled. Michelle had gotten a lot out of her time at the studio and rediscovered why she loved to dance in the first place, but passion isn't enough to pay the bills in a field defined by passion and creativity, particularly for a performer deemed to be "over the hill". Can Michelle find her way back to the dance floor?
Meanwhile, Fanny's shut the entire studio down and used it for storage; you would think that she would be elated to have her home to herself again with Michelle gone, as the two never got along for any amount of time, but in a sneak peek of the winter premiere, Fanny looks wistfully at the guest house. Michelle might not have made a demonstrable impact on the dance teacher, as prickly and acidic as ever, but maybe, just maybe, Fanny cares about her and wanted her to stick around. Can Fanny admit to herself that she misses Michelle?
The winter premiere of Bunheads airs Monday, January 7th at 9:00 on ABC Family.
Do you think that Fanny misses Michelle? Why would Michelle take a job with a magician rather than going back to dancing? How long will it be before the two cross paths again?
[FLOWPLAYER=http://www.tvovermind.com/wp-content/uploads/2012/12/bhd-111-2.jpg|http://www.tvovermind.com/wp-content/uploads/2012/12/BHD1011_fv2.h264HD-Clip2.flv,440,280]