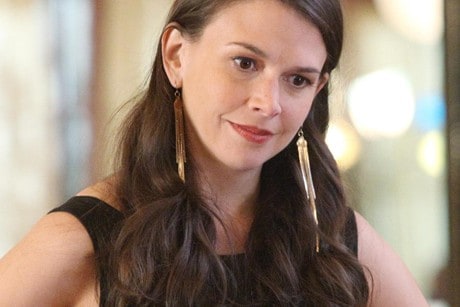 This past summer on Bunheads, we met former showgirl Michelle Simms and the four little bunheads who she grows close to upon becoming a dance teacher. The show, though born of tragedy and heartbreak with the loss of Hubbell Flowers, maintained a fairly comedic tone through its first half-season; however, things ended on a decidedly serious note, Michelle quitting her position at the academy due to an accident she caused at a performance that had the parents of the town calling for her head.
ABC Family has released two recap videos to throw us back into the quiet quirkiness that is Paradise, California, with one focusing on the fashion of the town and the other focusing on the relationships the characters have been in. Everything from the magic of a lucky snood to Boo's surprisingly active love life is covered and the videos make for a quick, suitable refresher to the world of Bunheads.
When Bunheads returns for its 10-episode winter season, Michelle is working for a magician in Nevada (we meet her brother on the January 28th episode, according to ET Online), while the dance studio has been closed, sending the girls scattering all over town (and beyond). Sasha ends up going to Joffrey, though when she comes home, she does anything to avoid seeing her parents; the other three, meanwhile, get pulled in closer by their families, as Boo tends to her pregnant mother, Melanie helps her grandfather, and Ginny takes over the real estate business from her mother.
The winter premiere of Bunheads airs Monday, January 7th at 9:00 on ABC Family, following the season premiere of Switched at Birth. You can check out a preview for the back half of the season here, as well as information about an upcoming guest star here and full premiere episode description here.
How long do you think it'll take Michelle to come back to the dance academy? Will Sasha be able to face her parents after she gets home from Joffrey? Which of the bunheads are you most looking forward to seeing again?
http://www.youtube.com/watch?v=6tHDUAkJhFQ
http://www.youtube.com/watch?v=Y7Nsp1rbQYc