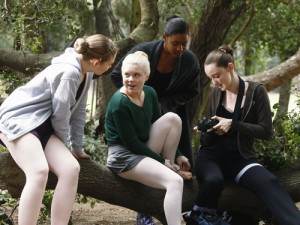 The concept of home and finding one's place is all throughout Bunheads. Michelle thought she had hers on the dance floor and in front of the crowd in Vegas, before years of partying and career intertia left her feeling burnt out and directionless. The house that Fanny shared with her son, loaded with bric-a-brac and Buddhist shrines, very much bore the imprint of her personality – a little kooky, a little messy, a little spiritual, a lot eclectic. Poor Hubbell finally found the place that he always wanted to be once he married Michelle, the six years of groom Halloween costumes preparing him for the real thing, but he didn't get to enjoy the relationship after years of searching for "the one".
That same theme took on a more central role in Bunheads, with "Inherit the Wind" finding Michelle examining the home that Hubbell left her, to the dismay of Fanny. It was a strange plotline, in that it was arguably the most thoughtful that the show has made Michelle and it contained some of the most broadly funny scenes of the series. That kind of tonal confusion, the laughing when you should be crying conundrum, may prove to be a problem later on in the series, but once you let it go in this particular instance, there was a lot of fantastic material to be mined. It wasn't even about the lack of tension from whether Michelle was going to stay in Paradise or not; you knew and I knew that she'd stay on her newly acquired property, Fanny's objections be damned, but that didn't matter to me. What mattered was watching Michelle try to work through the complicated emotions that she had upon getting the house, weighing her guilt at accepting such an extravagant "gift" from her late husband with her desire to find anywhere else on the planet to live and her capability of doing what Hubbell would have wanted in her situation. And that was good, good stuff, Michelle's snark being turned up the more heavy stuff she had to deal with and curve in the straightaway of life she had to take. I appreciate how lively and funny Bunheads can be, the pop culture references and snappy dialogue seemingly increasing in pace with each episode, but what keeps me engaged is the darker elements, the gray area that Michelle is currently living in, the fear that Fanny has of her own mortality.
While following Michelle around town let us watch her slowly unraveling at the thought of making this type of decision, her sense of responsibility ultimately outweighing her fear of commitment, it expanded the world of Paradise, California even more than the previous episode did. While tow truck driver Lou and Officer Clayton provided a very old school comedy dynamic with Michelle, almost a "Who's on first?" type of interaction before her arrest (and later release), it was rich guy Grant that really caught my eye. This is the type of character that you don't quite know the purpose of yet and that's intriguing; on a show like Bunheads, there are characters introduced that you know their purpose within seconds. The neglectful mother, the space-y bartender, the quirky artist – they may have additional nuances to their character and hidden depths that may yet be exposed, but you immediately get why they're there. I didn't get that with Grant and I like the little veil of mystery – once Michelle made it to his (gorgeous) home, they had a nice flirty energy between them, but it's too soon for us to be talking love interests and Life After Hubbell. Thus far, though, he seems to be a level-headed, compassionate man that's decidedly free of quirk or idiosyncrasy, but his isolation is yet to be explained and there's something about him that makes me think he'll add a lot to the Bunheads narrative. Even if it's just as a part-time confidant and occasional fairy godfather to Michelle, it'd give her some roots in the town and another person to bounce off of on a regular basis.
Home was also explored through the girls, as we got our first glimpses at a couple of parents and a sibling or two along the way. Although I'd like to spend more time with the girls and get to know them better, I do think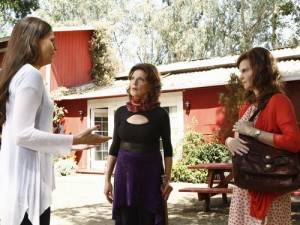 that the emotional heavy lifting has to be done by Michelle and Fanny now and once the heavy grief/confusion that Hubbell's death caused becomes more manageable, the show will include them a little more heavily. For now, though, getting a look at their home life provides just enough shading to keep me interested once the action goes away from the two main characters. You may think you know someone, but you really don't have any idea until you know where they came from and what they've had to deal with to get to this point; it may not excuse how horrid Sasha can be to her friends, for example, but if you know about her poor relationship with her brother and her cold mother that shows no interest in her, you understand her more. And understanding these girls is paramount to being able to care about their storylines, so even though we only got brief moments in the car/at practice, it felt like their characters all deepened a tiny bit.
For example, Ginny's obsession with her mother (and not turning into her) was given a bit more clarity, in that her mother is a crazy person real estate agent that looks like a Stepford wife gone very, very wrong. Before the episode, it was beginning to feel like a one-note plot crutch, but we've seen her mother and…I kind of don't blame her for being that focused on not turning into her.
The only thing, though, is that something like the ugly feet contest could have been a pretty cute subplot all on its own. Yes, it's a bit silly in concept and might have taken away from the heavier moments in the episode, but it could have provided some decent counterbalance and allowed us to see the girls interacting in a group activity that wasn't dance practice. Plus, they had other dancers around them and they could have been introduced/been given a quick second of exposure, which would make the dancing scenes feel a little fuller. I don't need to know everything about every dance Fanny Flowers has ever taught in her illustrious teaching career; I just think that getting at least the name of (if not an additional fact or character attribute of) the other dancers in her class could allow different dynamics to be shown and the scenes to feel a bit less faceless.
Whether it be Michelle deciding where hers is, Fanny worrying about losing hers, or the girls opening the door on theirs just a tiny bit, the concept of home was brought more explicitly into the world of Bunheads. While Fanny and Michelle have come to some type of arrangement, the latter agreeing to move into the guest home out back, the girls have gotten their characters fleshed out a little more by showing off parental dynamics and wild older siblings. It may not have been the force that the pilot was or as emotionally honest as "For Fanny", but "Inherit the Wind" was an especially solid episode of television that opened Bunheads up and exposed the insecurities of each character. Everybody wants to have a home, but everybody wants to have a home where they feel like they belong and comfortable, so while there are characters that have some/most of that, nobody's all the way there yet. And it's unclear if they'll ever get there.
Thoughts, Quotes, & Observations:
-Michelle, after asking Fanny's knick-knacks where to find food: "And I'm waiting for an answer. New low."
-"I'm gonna go be old now."
-"But in the meantime, I would really like a cup of rusty tea."
-"How cocky being land rich makes you."
-"Never in the history of existing has it ever been shorter than it is now."
-"Suck it out." "Good lord."
-"Well, fortunately, my mother-in-law swing dances with the police chief."
-"Oh, it's those straightaways. They suck the politeness right out of your head."
-"It's like two miles of Dali paintings walking around free."
-Interviews: Sutton Foster with Playbill.com, Kelly Bishop with Broadway World and The Voice of TV, and Amy Sherman-Palladino with Vanity Fair.
-Which Gilmore Girls alum is the latest to sign on to guest on Bunheads?
-The Miami Herald profiled the recent onslaught of dance-themed shows on TV, including Bunheads.
-Boo's mom is named Nanette, while there's a character in Gilmore Girls named Babette. Hmm.
-I tried to jot down every (pop) culture reference, just out of pure curiosity. Mentioned tonight were Thornton Wilder, Menudo, Downton Abbey, Remains of the Day, Risky Business, Monty Python, The Poseidon Adventure, and Barry Manilow.
-I continue to adore how such a verbal show uses silence. Latest example: after the meeting with Jerry.
-Even though we don't really know her still, this was a good episode for Melanie, between her photography, her brother being Boo's crush, and her tight relationship with Ginny. Plus, her personality feels like a combination between Boo and Sasha, warm yet ably sarcastic.
-How beautiful was the area behind the house? Quite lovely.
-There's no new episode of Bunheads next week, but in two weeks, the Joffrey auditions are quickly approaching, with Fanny doing last minute prep work with her students to improve the condition of the dance studio. Will Boo end up auditioning?