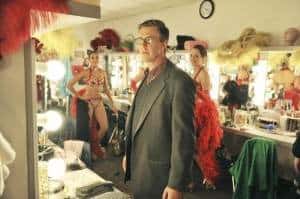 For months, the pilot of Bunheads has been hinted at, talked about, and cryptically previewed, both on ABC Family and the internet at large. That's to be expected, considering the caliber of talent in front of (Tony winner Sutton Foster) and behind (Gilmore Girls creator Amy Sherman-Palladino) the camera, but what I've been most interested in are the episodes following the pilot. Once the premise has been clearly defined and Michelle makes the trek from Vegas to Paradise, California, what happens then? How will she adjust to being out of the limelight, marrying a stranger, and teaching dance instead of being on stage?
Listed below are the dates, initial airings, episode names, and episode descriptions for the first three episodes of Bunheads, all of which hint that her transition to small town life may not go as smoothly as she thought.
MONDAY, JUNE 11 (9:00-10:00 p.m. EST)
"Pilot"
Michelle Simms (Tony Award(R)-winning actor Sutton Foster) had a promising career as a classically-trained professional dancer but was drawn to the lights of Las Vegas. Now, with a dead-end job as a 30-something showgirl, she's found the excitement of Sin City has lost its appeal, and her persistent suitor, Hubbell Flowers (Alan Ruck, "Ferris Bueller's Day Off"), is gaining it. With promises of a cushy life in his coastal town of Paradise, CA., Hubbell convinces Michelle to marry him and move away. Once in there, Michelle discovers that Hubbell forgot to mention that he lives with his mother, the strong-headed, imperious Fanny Flowers (Kelly Bishop, "Gilmore Girls"), who is not pleased that Hubbell has run off and married a stranger.
A former dancer herself, Fanny runs the local dance studio, which Michelle comes upon and ends up bonding with some of Fanny's dance students: sweet "Boo" (Kaitlyn Jenkins), who would give anything to be a "bunhead" but struggles against her body type; rebellious Sasha (Julia Goldani Telles), who possesses the classic ballet dancer's body and talent but — distracted by family issues at home — doesn't seem to have her heart in dancing; shapely Ginny (Bailey Buntain), who is not yet comfortable in her own skin; and fun-loving Melanie (Emma Dumont), who is ready for whatever life throws at her. Michelle's budding relationship with these girls helps her adapt to small town living and her uneasy role as a new daughter-in-law.
MONDAY, JUNE 18 (9:00-10:00 p.m. EST)
"For Fanny"
Michelle's rocky start with her new mother-in-law finally seems to smooth out, until an unexpected occurrence turns everything on end. Michelle quickly finds herself back at odds with Fanny, but at the same time wanting to empathize with her. Inspired by Fanny's students, Michelle has an idea to help Fanny face the reality of the situation.
MONDAY, JUNE 25 (9:00-10:00 p.m. EST)
"Inherit the Wind"
When Fanny's attorney gives her shocking news, she takes it hard and makes the situation more awkward for Michelle. Making matters worse, Michelle has a run-in with the law when she takes off in Hubbell's car to blow off steam, only to break down in the driveway of a handsome, local recluse. Meanwhile, the girls compete against other dance studios in an "ugliest feet" contest.
Bunheads premieres Monday, June 11th at 9:00 on ABC Family following The Secret Life of the American Teenager. You can check out photos and sneak peeks from the premiere here, as well as an extended on-air promo here.