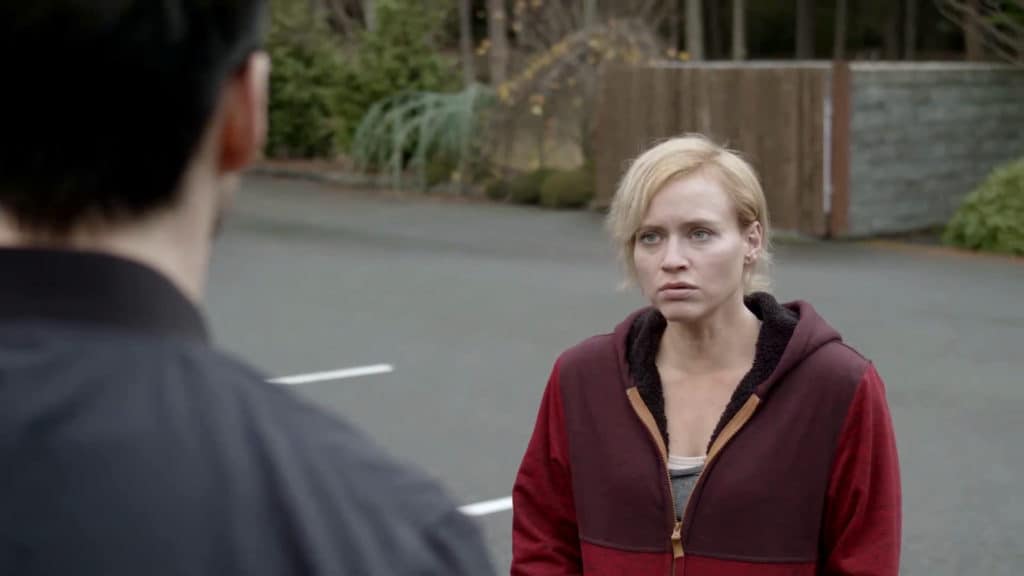 It's a war against misogyny, that's one of the most important thoughts about this movie, and it's not wrong. It's also nothing for men to get openly offended about since if you're not a misogynist then there's no reason to be defensive. Apart from that, however, there are moments when almost any man might cringe and wonder just what director Brady Hall was getting at. Thankfully the movie continues to roll on and explain itself in one way or another as it follows the main character, Alex, as she tries to survive while also attempting to make it clear to the men trying to assault her that being a woman doesn't make her weak, overly emotional, or easy to put down. The movie begins with the main character, Alex, contemplating and then attempting suicide by swallowing a bottle of pills after attempting to reach a suicide hotline and only getting a message, which is depressing enough. When she receives a call that her mother, who she has been estranged from for years, passed away after suffering a severe stroke, she nearly accomplishes taking her own life, only to rush into the bathroom where she makes herself vomit, thereby saving herself for reasons known only to her. 
The movie progresses rather quickly and doesn't waste a whole lot of time on exposition since the moment that Alex arrives in her hometown she goes to visit her old home, which obviously brings back a great number of bad memories. Upon falling asleep in her own room she's eventually awakened by the local sheriff, who is also her former boyfriend, who we quickly learn is kind of a jerk that Alex has no respect for due to obvious reasons. Not only was he abusive to her, but it's alluded to that he abused her younger sister as well and that their mother took his side more often than not. If that's not enough to raise the hackles of any parent watching this movie it gets worse when she's told that her mother has already been cremated, a decision that Alex knows her mother wouldn't leave to anyone else. But when she visits the funeral home and walks to the back she notices two men, one she knows and used to babysit when they were both much younger, loading a suspicious-looking bag into the back of their vehicle. When an argument ensues over Alex being able to get into the funeral home the question "Why are you so angry?" quickly becomes a trigger that she doesn't care for, and leads to a confrontation that sees her being rendered unconscious by a chokehold before being tossed in the back seat of the vehicle. 
Upon reaching their destination it's made clear to Alex that her continued struggles will only get her a bullet in the brain if she persists, but once she's taken to speak to a man that appears to be in charge she begins to learn what's going on and is less than impressed. After escaping the man and even breaking his forearm by slamming a barn door on it, she grabs his gun and proceeds to find out what the men are really doing. The idea of organ harvesting is insane to be sure, especially when it's done in such an illegal manner, but somewhere along the line, this idea takes a back seat to the overall in-your-face misogyny that drives the movie in such a strong manner. Alex is forced to deal with one assailant after another as she eventually realizes that the operation goes higher than she would have thought, as subordinates give way to underbosses who give way to bosses until she finally meets one of those that believes in the sanctity of his importance until it's made clear how easily he can be played when Alex grabs his gun and shoots him. Along her path of destruction she does manage to find her little sister and, as one would imagine, does a lot more damage before a hit squad associated with the organ harvesters tracks her down and proceeds to attempt to erase her. 
All in all, this movie was pretty entertaining, and despite earning quite a few eye rolls it was one that might make some folks say that 'not all men are like that'. This is true to be certain, but the point behind this appeared to be to showcase the worst possible example of men and what women have to deal with far too often. Many folks might go on to state that they don't for seeing this kind of thing in the movies, since depicting men as uncaring, unfeeling d-bags that are bound to ask a woman "Why are you so angry?" as though it's a cure-all to the problem is more than a little unfair. Well, the best way to counter that is a person doesn't have to watch it if they don't want to, and if they get defensive then they might need to re-evaluate their outlook.