This season of Burn Notice has been a roller coaster ride story wise and emotion wise. The first half of the season started off strong. However when the second half began airing, the episodes began to run thin and a little dry. This weeks episode had great potentially but ultimately fell flat in the story line that needed the most attention.
The episode focused on two different stories. The main arc of the season (and the show for that fact), was actually focused on very little this week. More suprisingly, it was Sam and Jesse who were featured in this arc. As for Michael and Fiona, they were back in Miami dealing with a job that Michael's brother Nate had picked up. This story line was where the episode lacked. I have never been a big fan of Nate and this episode did not change my feelings. It's like the only reason Nate is brought in is so he can give Michael a hard time, then help him learn a lesson about family.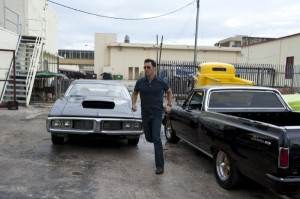 As for the main story of the series, huge progress was made in finding out who burned Michael. Sam and Jesse leave Miami on a tip that a list is being auctioned that contains the names of all those involved with burning Michael. This I beleive should have been the main focus of the episode, but if I had my wish, the rest of the season would lack substance. The best moment of the episode by far had to be the final cliffhanger with the gang asking Michael what to do. With Michael only stating that they will take these people out, we as viewers know that a brawl of huge proportions will be awaiting us in the final 3 episodes of the season.
I am hoping that the final episodes can pick up the speed and intensity and return to its glory of the first half of the season. For viewers who don't know, a few more faces from Michaels past will be returning and you can bet he won't be happy to see them (Hint: one of the people returning is thought to be dead). We will have to see how that develops over the end of the season. However, I wish that this weeks episode could have been developed more and could have used less of Nate. B-