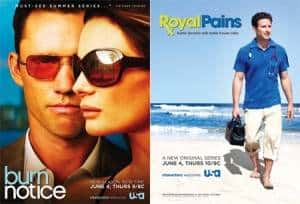 Although it should come as no surprise to anyone, USA network has renewed its two top summer series Burn Notice and Royal Pains. The renewal will bring viewers a second season of Royal Pains, the hip new medical comedy-drama, and a fourth season for the nets flagship action drama Burn Notice.
The renewal comes as USA releases news of how they've shattered ratings records in the month of July, thanks to their hits Burn Notice, Royal Pains, Law & Order: Criminal Intent, In Plain Sight, and WWE Monday Night Raw. In the news release USA touts Burn Notice as being Julys top scripted series for P25 – 54 in all of television, broadcast or cable, delivering 3.19 million viewers in that key demo (more than any other scripted series airing new episodes). Royal Pains follows directly behind Burn Notice in July, in the same demo, with 3.06 million viewers.
This summer has shown a trend among the major players on basic cable, with USA, TNT, and Syfy all showing record numbers with their original program ratings, a sign of the shift between broadcast and cable viewing. So while this may not be shocking news, it is certainly great news.
Burn Notice and Royal Pains both air on Thursday nights starting at 9pm EST.