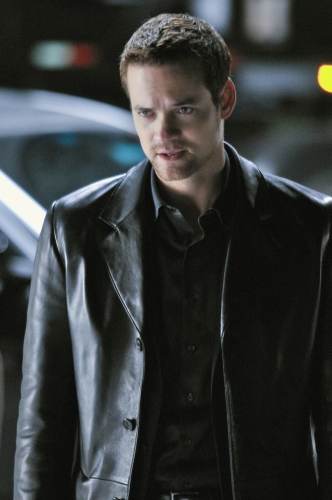 All series have a shelf life. So do their characters and plotlines. While they may start hot, storylines can just as quickly paint a good show into a bad corner, or completely change it around. (And I don't just mean "When will Character A and Character B get together?" That's the least of my worries.) Here are five elements from some of my favorite series that are just aching for resolution.
1. How much time does Nikita's Michael (Shane West) have to pick a side?
Forget Nikita or Alex. The character I'm most concerned with in CW's spy saga is Division's permanently agitated right-hand man, Michael. He's the only person whose loyalties aren't clear. While Michael's been a good soldier, we saw in "Rough Trade" that he's had his doubts about his work for a few years, and his recent interactions with Nikita have only exacerbated his confusion. He's not sure if he's on the right side anymore, and it shows; in "Resistance" Percy feels the need to test Michael's loyalty.
It's Michael's inner conflict that makes him Nikita's most fascinating character. Every week, he clearly struggles trying to rationalize what he believes to be true with what chasing Nikita is showing him. (And it's not because of her, either.) This vulnerability is a unique aspect to his character that no other incarnation has had, and it's given Shane West plenty of material, which he's capitalized on in spades. His Michael is neither idiot nor fool, as we've seen in his confrontations with boss Percy (Xander Berkeley), so each week as tension mounts, I can only wonder when he'll finally decide he's had enough and join Nikita and Alex in taking down Division.
While Michael's defection from the bad-guy ranks is pretty much inevitable, it will also mean Nikita will be an entirely different series. Shane West will still have plenty of material to mine as Michael starts a whole new arc, but the writers will need to find something to replace the "when will Michael turn sides?" tension that keeps the fans just as interested. It will no doubt come in the form of two other questions: after trying to protect her, will Michael be willing to leave Alex behind (unless he figures out first that she's on Nikita's side)? More importantly, who will Percy replace Michael with in the hunt for Nikita? It had better be someone truly great and more than a little intimidating, because Michael is going to be one tough act to follow.
Prognosis: Variable. It depends on how the writers organized their series; if they had a 13-episode plan, we might see it happen by the end of the initial order. Will they push the game-changing moment to episode 22 now that they have a full-season run? Or will they hold their trump card for into season two and beyond? All of them could be possibilities. One thing's for sure: once they let Michael come to his senses, there's no going back, so they'd better choose wisely.
Speaking of people named Michael…
Continued on next page…