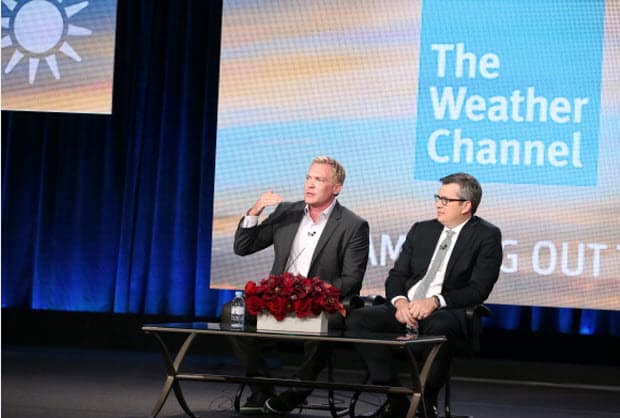 It seems that every few weeks there's some new controversy about a cable provider and a channel going to war. Giants like CBS and AMC have slugged it out with the likes of Time Warner and Dish, and now DirecTV is fighting with…The Weather Channel? TWC's CEO David Kenny accurately describes the situation:
"This is unprecedented for the Weather Channel. In our 32 years, we have never had a significant disruption due to a failure to reach a carriage agreement."
The root of all these controversies is that the channel wants the cable company to pay an increased rate to air their channel. The cable company doesn't want to pay, which either would cut into their profits or make them raise their bills. They respond by pulling the channel, and everyone usually gets mad at them, not the channel. But this is reaching strange new places if DirecTV is going to war with The Weather Channel.
TWC is spinning this as DirecTV trying to "deny their viewers access to critical and potentially life-saving information in times of severe weather." In other words, without The Weather Channel, people would have no idea they were about to be swept up by a tornado or run over by a hurricane. I think this is sort of a disingenuous stance to take, as there's weather news on EVERY news channel, not to mention alerts that blanket cable when there's a severe storm or event. And DirecTV has replaced them with a different weather channel anyway for the time being. I hardly think anyone is going to die as a result of this, even if DirecTV is probably being stupid as per usual.
What do you make of this?
[Photo via  Frederick M. Brown/Getty]