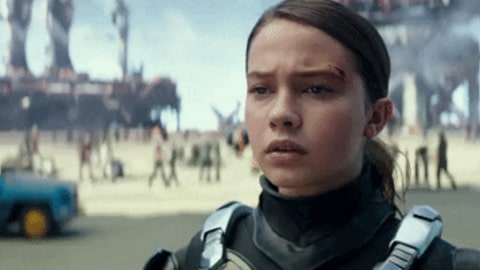 Cailee Spaeny is an actress who was born in Springfield, Missouri, on July 24, 1997. She made her debut in the film industry when she played Erica in the 2016 short film 'Counting to 100′. She has since had roles in several major films including 'Bad Times at the El Royale', 'On the Basis of Sex', and 'Vice'. However, she is best known for her role in the 2018 science fiction monster adventure film 'Pacific Rim: Uprising'. Although she is relatively well known, there are many things that people do not know about this actress. Here are 10 interesting facts that you might not know about Cailee Spaeny.
1. She Has a Past in Musical Theater
When she was growing up in Springfield, Missouri, Cailee Spaeny was involved in the Springfield Little Theater Group for many years and had roles in many of their plays. However, her first ever performance was actually in a church. One of her best roles was playing Dorothy in 'The Wizard of Oz' in the 2013-2014 season.
2. She Likes to Eat Out
Cailee Spaeny likes the experience of dining out, and she has said that her favorite restaurant is Cracker Barrel. However, other diners may notice that she has some rather strange eating habits. According to Just Jared, the actress has described herself as a sectional eater. This means that she only eats one thing on her plate at a time.
3. She Loves Traveling
Spaeny says that she loves traveling, which is a good thing as her career means that she now travels a lot. In recent years, she has said that she has more or less lived out of her suitcase. Some of the locations to which she has traveled during filming include Los Angeles, Vancouver, Montreal, China, and Australia. In fact, the first time she ever left the United States was to film 'Pacific Rim: Uprising' in Australia.
4. She is a Dog Lover
Cailee Spaeny is a dog lover and she has her own dog that she loves very much. On her first press day, she adopted a dog and called him Scrapper. She chose this name as it is also the name of the actress' Jaeger in the film 'Pacific Rim: Uprising'.
5. She Had a Choice of Roles in 'Pacific Rim: Uprising'
Initially, Cailee Spaeny was offered a choice between two roles in 'Pacific Rim: Uprising'. According to Panda Gossip, she decided to play Amara as she felt that this character was more inspirational. Spaeny felt that young girls could look up to Amara as she is a strong and powerful woman who can stand up for herself. The actress wanted young girls to connect with her character and see her as a role model.
6. John Boyega Played a Role in Her Being Cast in Pacific Rim: Uprising
Cailee Spaeny has been friends with actor John Boyega for many years. Boyega was already cast in the role of Jake Pentecost and he put Spaeny's name forward for a role in the film. However, he had not realized she would be cast in the lead role of Amara Namani. When she found out she was on the call sheet, Spaeny had no idea what it was because she had not been outside the United States before. After landing the role, her career was given a huge boost. Others who starred in this film include Scott Eastwood, Burn Gorman, Charlie Day, Tian Jing, and Jin Zhang.
7. Variety Listed Her in Their 10 Actors to Watch List
In August 2018, the popular publication Variety listed Cailee Spaeny in their list of 10 actors to watch. This was a pretty big deal for a young girl from a small town who is still only in the early stages of her career. This is not the only publication that is recognizing Spaeny as a promising talent of the future, as she has also appeared in Vanity Fair. It is likely that her fans will continue to see her appearing in publications as her fame continues to grow.
8. She is Also Pursuing a Career in Music
Film is not the only area of the entertainment industry in which Cailee Spaeny is pursuing a career as she is also pursuing a career in music. As a singer, she has already released her debut single 'Fallin" via iTunes. She released this under Future Town Music back in 2016. As yet, she has not written or released any further singles. However, there is the possibility that she will release music again in the future.
9. She Has a Growing Social Media Following
As her fame is growing, so is Cailee Spaeny's social media following. On her Twitter account, she has more than four thousand followers. She uses this account to post about her career, promoting her single, and to discuss people and issues in the entertainment industry. Cailee Spaeny's Instagram account has 70.7 thousand followers. On this account, she posts photographs of herself during her working activities and having fun in her free time. She also uses her account to promote a charity that is close to her heart called No Kid Hungry, which aims to end child hunger. No doubt her social media following will continue to grow as she establishes herself further in the entertainment industry.
10. She Has Some Exciting Future Projects in the Pipeline
Cailee Spaeny's fame is only set to increase as she has some exciting future projects in the pipeline. She is playing Lyndon in 'Devs', which is a TV miniseries that is set to air in 2019. She is also playing The Cashier in 'The Shoes', which is in post-production and set for release later in 2019. Possibly her most exciting future project is that she has been cast in the upcoming remake of the 1996 supernatural film 'The Craft'.