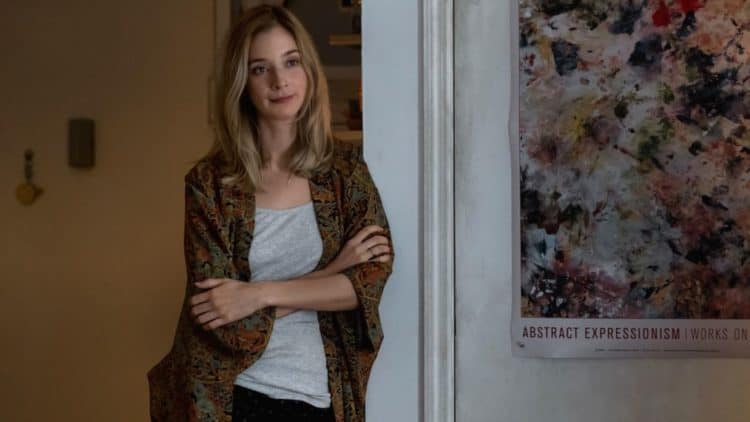 35-year-old Caitlin Fitzgerald can currently be seen in season 2 of STARZ's Sweetbitter, the TV adaptation of the best-selling novel of the same name by author Stephanie Danler. In the show (which also stars Ella Purnell, Tom Sturridge, Eden Epstein, and, as of July, legendary performer Sandra Bernhard), Caitlin plays Simone, a self-assured, intriguing waitress with some dark secrets. Prior to landing the part, Caitlin was perhaps best known as Libby Masters in Showtime's Masters of Sex. To find out more about the talented actress, keep reading.
1. She's from a family of entrepreneurs
Caitlin's decision to pursue a career in acting (rather than business) represented a change in direction from the usual path taken by members of the Fitzgerald family. Her father, Des, is the former Chief Executive Officer of the multinational grain-trading firm (and incidentally, one of the biggest privately owned corporations in the US), ContiGroup Companies, as well as the founding owner of Ducktrap River Fish Farm Inc. Her mother, Pam Allen, meanwhile, is the founder of the yarn company, Quince & Co.
2. She's a graduate of NYU's Tisch
After developing a love of acting as a child, Fitzgerald began performing in local community theatre and in school productions at Concord Academy. After deciding to turn the interest in acting into a career, she enrolled at New York University's TISCH, studying drama at the Stella Adler Studio of Acting. In a further effort to perfect the art, she also spent a brief spell studying Shakespeare at RADA in London.
3. Her performance as Hedda Gabler got mixed reviews
After taking on a few (largely uncredited) roles in TV and film, Fitzgerald 's first big stage gig came in 2010 with a part as the titular character in a production of Ibsen's Hedda Gabler. While critics were enamored with Caitlin's appearance, they didn't hold back with their reservations. "All eyes and cheekbones, she is a pleasure to look at," The New York Times'chief theatre critic Ben Brantley praised, before adding the less complimentary comment that she reminded him of "a newly transferred, intimidatingly classy high school senior who is so beyond being just popular".
4. It took 6 months to land It's Complicated
Landing a part in a Meryl Streep movie is never going to be an easy process, but in Fitzgerald's case, it took an extraordinary 6 months of auctioning before she finally got accepted to play the part of John Krasinski's fiancé (and Meryl's future daughter-in-law) in the 2009 feature film, It's Complicated. Despite the arduous process, Caitlin managed to stay composed. "I was doing a lot of yoga during the auditions. Everyone kept saying, "You're so calm about this." she told Elle in 2010. "I was in disbelief, I was sort of like… Sure. I will just go and do this now. That will be fun,"
5. She's co-written a screenplay
In addition to the success she's achieved in front of the camera, Caitlin is also making waves behind the lens. In 2012, she co-wrote and starred in the independent film "Like the Water". Caitlin looked to real-life when writing the play, with much if its storyline drawing its inspiration from the death of a childhood school friend, Sabrina Seelig.
6. She's dated a co-star
Fitzgerald is clearly not averse to the odd office romance, at least if the 3-year relationship she enjoyed with Masters of Sex co-star, Michael Sheen, is anything to go by. The former couple first hooked up back in August 2013, after getting close on the set of their hit show. The pair called time on the relationship in 2016, but remain close friends, despite moving on to new relationships in the meantime.
7. She's in a relationship with Aidan Turner
Caitlin is currently dating Aidan Turner, an Irish actor best known for his appearances in The Hobbit and as the lead star of the hit BBC drama series, Poldark. The pair began dating back in 2017, with one of their first public appearances coming on the red carpet of the premiere for "The Man Who Killed Hitler and Then the Bigfoot", in which Aidan starred as Young Calvin Barr and Fitzgerald starred as Maxine. 2 years later, and the pair's relationship is still believed to be going strong.
8. She hates auditioning
Auditioning may be part and parcel of the job, but it's still one of Caitlin's least favorite aspects of being an actress. "I wish I could say I am one of those actors who loves any chance to act," she shared with BGB Studio "I am not. It feels really artificial to me to sit in a room with a reader (who is often not an actor) and try and make something happen. It feels so contrived."
9. She identifies more with Tess than Simone
Caitlin may play the sophisticated Simone in Sweetbitter, but it's the naïve Tess she most identifies with. "I read (the script) and I was Tess," she told TV Insider. "In 2006, I was twenty-two, in New York City having just graduated from college, trying to make my dreams happen. Reading (the script) felt like this surreal experience of reading my diary."
10. She'd prefer to be a lioness (but some friends think she's a bird)
Caitlin is apparently somewhat at odds with other people when it comes to deciding which spirit animal she'd choose. "A lot of people compare me to a bird," she told She Does "which could be an unkind comment on the way I look. I fancy myself more of a lioness.' Given the success, she's already achieved, and the habit she has of hunting out the best roles, we'd have to agree.