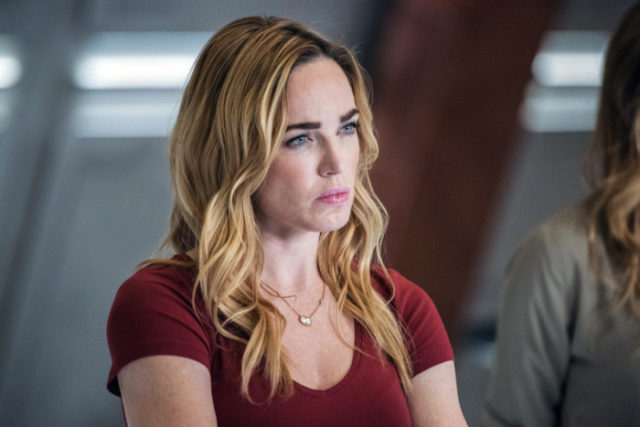 A familiar face will be returning to Star City for the upcoming Arrow Season 6 finale. Caity Lotz revealed on her Twitter and Instagram this Thursday that she will be back as Sara Lance, aka White Canary, in this season's final episode, which is scheduled to air on Thursday, May 17.
"Guess who's coming back for Arrow season finale?" Lotz wrote, sharing a Season 2 photo of her and Arrow stars Stephen Amell and David Ramsey.
Guess who's coming back for #Arrow season finale? 😈 https://t.co/CkkdwOJI7l pic.twitter.com/xACtnYnxsi

– Caity Lotz (@caitylotz) March 29, 2018
As Arrowverse fans know, Lotz has been plenty busy over the past few years as a series regular on The CW's Legends of Tomorrow. For the show's past two seasons, Lotz has arguably been the series' star, as Sara has been promoted to the position of Captain of the Waverider and given weightier storylines, such as this season's inner-demonic battle against Mallus (voiced by John Noble). This will be her first non-crossover appearance on Arrow since the Season 4 episode "Lost Souls," which aired back in November 2015.
So what kind of role will Sara play in the Arrow Season 6 finale? Right now, it remains unclear.
Maybe Sara has a message from the future that she needs to share with Oliver? Maybe she has decided to retire as the Waverider's Captain? Maybe she just wants to visit her dad? The most popular fan theory right now, though, is that there will be some type of face-off between Sara's White Canary and her sister's Earth-2 doppelganger, Black Siren (Katie Cassidy).
Currently, Quentin (Paul Blackthorne) believes that he is helping to rehabilitate Earth-2's Laurel from her villainous ways. However, that is only a facade that Black Siren is putting on for Quentin, Oliver, and the rest of Team Arrow. She remains loyal to Season 6's big bad, Ricardo Diaz (Kirk Acevedo), and once Black Siren's evil intentions are revealed, it could put her on a collision course with Sara.
Arrow airs Thursdays at 9 pm on The CW. Its Season 6 finale is slated for Thursday, May 17.
Arrow fans, are you excited to have Caity Lotz back on the series? What role do you think Sara will play in the Season 6 finale? Comment below and let us know.
[Photo credit: Dean Buscher/The CW]