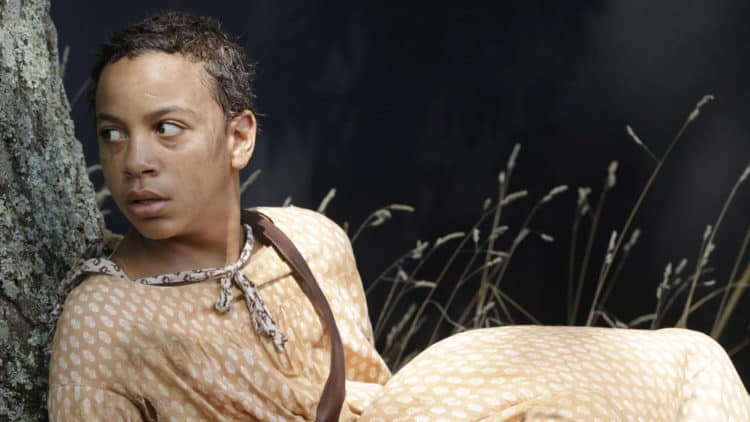 Most people's teenage years consist of minimum wage jobs and high school football games, but Joshua Caleb Johnson's teenage years have been a little different. The young actor has been working in the entertainment industry for most of his life, and 2020 has been his breakout year. Joshua is best-known for playing Onion in the Showtime TV series, The Good Lord Bird. In the show, he stars opposite award-winning actor Ethan Hawke and he has proven that he can hold his own on screen with a seasoned vet. Joshua will also be appearing in the upcoming season of Snowfall. Keep reading for 10 things you didn't know about Joshua Caleb Johnson.
1. He's A Los Angeles Native
Caleb was born in Georgia, but he has lived in Los Angeles for most of his life and it's where he calls home. Not only does Los Angeles have beautiful weather and lovely beaches, it's also the perfect place to be to pursue an acting career. Living in the city has opened up lots of opportunities for Joshua.
2. He Was In A Video Game
Some people may think that The Good Lord Bird is Joshua's first professional job, but that's not true. He's been acting professionally since for almost five years and he's even gotten to do some voice work along the way. In 2017, he voiced Young Devin Wade in Madden 2018.
3. He's Passionate About Cancer Research
Teenagers often get a bad reputation for being self absorbed, however, Joshua doesn't fit that stereotype. He is very compassionate and doesn't hesitate to think about others. One of the things he is more passionate about ic cancer research. In August 2020, he made a post on Instagram encouraging his followers to donate to St. Jude's Children's Hospital.
4. He Loves Responding To Fans On Social Media
Having a strong relationship with fans is an important part of being an entertainer that often gets overlooked. Joshua has made it a point not to take his fans for granted, though. He is very active on social media and loves using Instagram and Twitter as ways to directly connect with his fans.
5. He Plays The Drums
You might be impressed with what you've seen Joshua do on the screen, but wait until you hear what he can do on the drums. That's right, Joshua is also a talented drummer and he was the captain of the drum line when he was in junior high school. Hopefully one day he'll get the chance to combine his love for music with his work as an actor.
6. He Loves Sports
Thanks to his busy schedule Joshua probably doesn't get as much free time as he'd like, but when he does get time off from work he likes to spend it playing sports. He enjoys a wide variety of activities such as basketball, running track, swimming, martial arts, and parkour.
7. He's A Rapper
Playing the drums isn't the only musical talent Joshua has. He also enjoys singing and rapping. At the moment, making music appears to be only a hobby for him and it doesn't look like he has released any music. However, if he were to put out a few songs, his fans would probably be all for it.
8. He Started Modeling As A Baby
Despite his young age, Joshua isn't new to working in front of the camera. He started modeling when he was a toddler and by the time he was in elementary school he had fallen in love with acting, too. He told Hemisphere Magazine, "When I was in first or second grade, I remember dancing next to my crush [in a play], and I was the happiest kid in the world."
9. His Dream Role Is To Play Miles Morales
Joshua is enjoying all of the work he's done so far, but he already has his sights set on his dream role for the future. Some day, he hopes to play the live action version of Miles Morales from the animated film, Spider-Man: Into the Spider-Verse. At the moments, there's no plans to expand the series into a live actin remake, but when the time comes Joshua will definitely be ready to do his thing.
10. He Credits His Mom With Getting Him Where He Is Today
Working in the entertainment industry is hard on a lot of adults, so we can only imagine how hard it is for someone Joshua's age. Fortunately, his mother is supportive of his dreams and is with him every step of the way. During his interview with Content Mode he said, "…it's a joy to have my mom on set with me, and you know experiencing and being very proud of me and just laughing and having a great time and watching me do what I love to do. And without my mom, I wouldn't be where I am today."