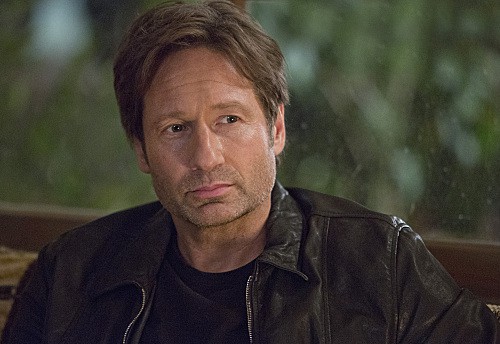 Hank Moody is an interesting character in that he doesn't practice what he preaches. Much of his interaction this season with Becca has been predicated on him warning her of the horrors of a wild lifestyle and the damage it can do to yourself and your loved ones, but his stint in rehab wasn't exactly taken seriously and he's partaken in illicit substances innumerable times. Californication has been all about how Hank knows what's bad for him and yet still lets it take over his life, so while he can speak from experience about how drinking, doing drugs, and being promiscuous can mess up any sense of stability you might have built for yourself, it's not like he's doing anything to stop it for himself or anyone else.
On the next episode of Californication, Hank is once again back at Happy Endings, only this time he's visiting Atticus, who checked himself in and has been taking to the experience nicely.The rocker has eschewed the tight pants and wild hair for a cleaner outfit and a more peaceful demeanor, meditating while sitting outside the center. Hank and Faith both try to get him to reconsider his residence at Happy Endings, including having her flash him, but for now, he's holding steadfast to his newfound worldview that decries objectifying women and puts more emphasis on smaller things (i.e. gardening) vs. fame, fortune, and fans. Are Hank and Faith right to want Atticus to come home or should they let him continue his journey in the way that he wants?
Elsewhere on Californication, Charlie goes over to Ophelia's in hopes of talking to Marcy and gets tased in the process, while Karen has an epiphany about Becca.
Californication airs Sundays at 10:30 on Showtime.
Will the old Atticus Fetch ever return or is rehab going to stick for him? What could have driven him to check himself into Happy Endings? Is Charlie going to get Ophelia back for the way she's treated him?