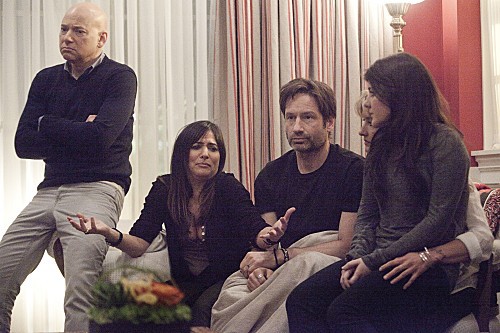 Hank Moody has done a lot in the previous five seasons of Californication, living out a lifestyle that many dream of and few could survive. His life has been all about excess and feeding the id that, ironically, has made him a sought after writer for much of his literary career. But on the sixth season premiere of the Showtime comedy, Moody pulled a move that didn't seem possible even two seasons ago. At the urging of his friends and family, Hank Moody has officially checked into Happy Endings, a rehab facility where he's meant to find peace with the demons he carries from the loss of former girlfriend Carrie and a lifetime with Karen and Becca.
Only one of his loved ones isn't exactly leaning on Hank to get sober, as Charlie sneaks a bag of weed into the facility to help Hank "take the edge off." As much as they may want him sober (or, at least, back to being the functional alcoholic that he was), there has to be fear that the Hank that returns from rehab won't be the Hank they know and love. One of the main exercises in a rehab setting is to sever ties with those who enable your addiction and by continuing to let him come back or pushing him to work, Karen, Becca, and Charlie would be up on the chopping block. That is, if Hank took rehab the least bit seriously, which we all know he doesn't.
As evidenced by his behavior at a group meeting, where one of the attendees has no qualms about calling him on his mockery of the process and the other residents. Hank has charmed and/or worn down many a woman in his time, but he might have just met his toughest challenge yet. Can he manage to, if not get sober, at least make a friend/companion/friend with benefits while spending time at Happy Endings?
Californication airs Sundays at 10:30 on Showtime. If you missed the premiere (or want to watch it again), you can check it out here.
How will Hank's time in rehab go? Is Charlie right in sneaking in some weed for him? Will we ever see a clean and sober Hank Moody?