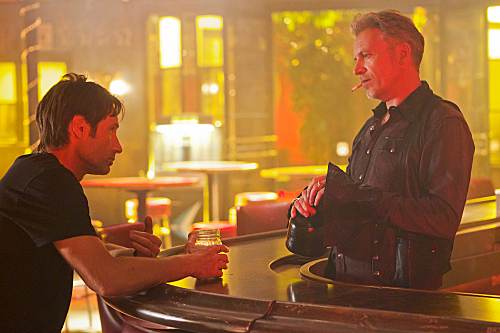 Californication is predicated on Hank Moody making piss poor decisions and having to dig himself out of whatever hole he finds himself in. But what happens when Hank becomes the only sane one in the room?
Last week, Hank and Tyler got into a scuffle at Charlie's party, resulting in a little blood, a lot of hurt feelings, and Becca finding another reason to be mad at her father. She's unable to believe anything bad about her boyfriend, finding a reason to stay with him following constant cheating allegations and generally a-hole-ish behavior. Californication has made a point in acknowledging Tyler as Hank's younger self incarnate, but if the two of them are (grudgingly) kindred spirits, Becca is Karen, starry eyed and either too insecure or in denial to take in what's going on around her.
Hence the engagement.
In the sneak peek of tonight's finale, Becca and Tyler broke up…and then got engaged. Hank is, of course, beside himself because he knows the kind of man Tyler is and the kind of hurt that he'll bring Becca if they marry. For all his poor decisions and self-destructive behavior, Hank adores his daughter above all else and wants to shield her from guys like Tyler, guys like himself. However, the only way Becca could finally "see the light" would be if another person exposed her fiancee as a cheater, since she doesn't really trust anything her father says about…well, anything. Part of her love for Tyler, at least subconsciously, seems to be based on making Hank suffer; Becca's never been shy about telling him what she thinks about his lifestyle and, as self-righteous as she is, what better way to date/marry someone exactly like him?
Hank can hear about how bad a person he is, but seeing the impact his actions have on others through his daughter? Talk about a wake-up call.
Californication airs tonight at 10:30 on Showtime.