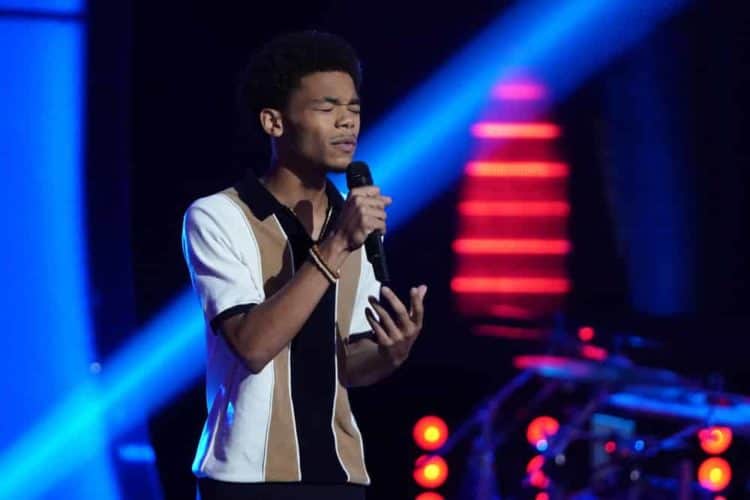 Cam Anthony has waited his whole life for a moment like the one he recently experienced during his blind audition on The Voice. His rendition of Sam Smith's "Lay Me Down" was enough to make even the viewers at home get up out of their seats. The control he has over his voice mixed with his range proved to be the perfect combination. Three out of the four judges turned around during the performance which left Cam with a tough decision to make. He ultimately decided to go with Team Blake and he's looking forward to seeing where the rest of the competition takes him. Keep reading for 10 things you didn't know about Cam Anthony from The Voice.
1. He Started Singing When He Was 4-Years-Old
Music has always been an important part of Cam's life and he has been singing for almost as long as he can remember. He discovered his love for singing when he was 4 and his parents were instantly impressed with his vocals after hearing him sing a jingle from a Folgers commercial.
2. He Performed On Ellen
Cam may be young, but he isn't exactly new to the industry. He has already performed on some pretty big stages including the Ellen Show when he was just 12-years-old. Even at such a young age, it was clear that Cam was going places and it looks like his time is finally coming.
3. He Met The Obamas
Getting the chance to meet a United States President — especially during their term — isn't something that many people get to experience. Cam, however, is one of the lucky few who can say that he got to hang out with a POTUS. He was invited to the White House to perform the national anthem during the Obama administration and he even got the chance to play basketball with the former president.
4. He Already Has a Large Social Media Following
Although Cam may not be exactly where he wants to be in his career, he's already covered a lot of ground. Even before being on The Voice he had a solid fan base and a substantial following on social media. When he was 12-years-old, one of his YouTube videos went viral and he has been building his social media presence ever since. His YouTube channel now has more than 54,000 subscribers and he has 35,500 followers on Instagram.
5. He Is Passionate About Social Justice
There are plenty of teenagers who couldn't care less about what's going on in the world, but Cam Anthony isn't one of them. He is very interested in staying up to date on current events and he is especially passionate about social justice and fighting against racism. In the summer of 2020, he attended protests against police brutality.
6. The Voice Isn't His First Major Competition
Getting the chance to compete on The Voice is something that Cam has always dreamed of, but the popular show isn't the first time he's put his vocal abilities to the test. In 2018, he competed in and won FOX's Showtime at The Apollo which let to him being invited to The Steve Harvey Show.
7. He Released Some Of His Own Music
Cam hasn't put out a full length project yet, but he's already released some singles. His first song "How Can I Forgive Ya?" was released when he was just 15-years-old. His most recent song "Leave Your Troubles" was released in 2019. If he wins The Voice, we'll be hearing a lot more from him.
8. He Has A Strong Support System
Lots of people who want to pursue their creative passions find themselves being discouraged by those around them and being pushed to pursue something more traditional. Fortunately for Cam, that isn't something he's had to deal with. His family is very supportive of his musical aspirations and they have stuck by him every step of the way.
9. He Plays The Piano
There's no denying the fact that Cam has a great voice, but singing isn't the only talent that he has. Cam is also a skilled piano player although it's unclear how long he's been playing. The fact that he is an all around artist will likely come in handy as he continues throughout the competition.
10. He Performed At A Nets Game
Cam has gotten a lot of cool opportunities throughout the years. On top of performing for Ellen DeGeneres and Steve Harvey, he also got the chance to perform the national anthem at a Brooklyn Nets game in 2015. With the rate he's going, there will be plenty more big performances in his career.