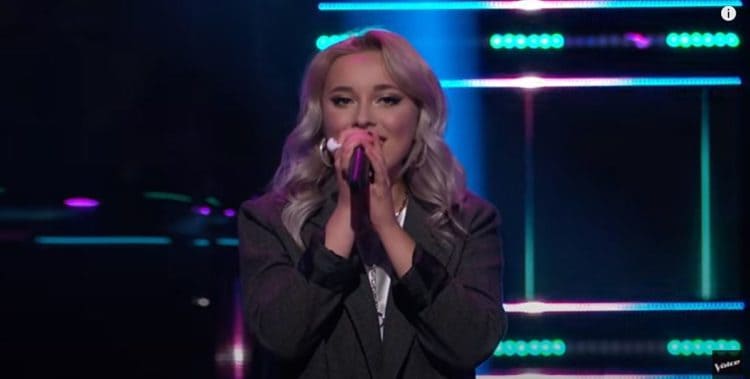 Getting just one judge to turn around on The Voice is a tremendous accomplishment, so when all four judges turned their chairs during Cami Clune's performance, it was clear that she was someone special. Clune, who performed "Skinny Love" by Bon Iver, nearly left the judges speechless with her voice. On top of that, Cami is just 20-years-old which makes her one of the youngest contestants on the show. After hearing pitches from all of the judges, Cami decided to join John Legend's team. After just one performance, there are already countless people across the country rooting for her to win. Continue reading for 10 things you didn't know about Cami Clune from season 16 of The Voice.
1. She Is A TikToker
2020 has been a massive year for the social media platform TikTok. Cami, like millions of other young people, has decided to join in on the fun. She has an account on TikTok where she posts singing clips as well as other content. At the moment, she has more than 18,000 likes.
2. She Started Her Career As A Dancer
Cami has always been a performer at heart, but singing hasn't always been her medium of choice. Her introduction to being on stage actually started with dance when she was only 4-years-old. However, as the years went on she slowly began to fall in love with singing.
3. She Suffers From A Rare Disease
When Cami was in high school she was diagnosed with a rare disease called Ehlers-Danlos Syndrome. According to the Mayo Clinic, "Ehlers-Danlos syndrome is a group of inherited disorders that affect your connective tissues — primarily your skin, joints and blood vessel walls…People who have Ehlers-Danlos syndrome usually have overly flexible joints and stretchy, fragile skin."
4. She Has Performed At Professional Sporting Events
Cami may not have gotten a record deal yet, but she has been working hard to make a name for herself. She has done lots of shows in her local area of Buffalo, New York and she has even performed the national anthem at several professional sporting events in the area.
5. She Is Also An Actress
Cami is the kind of entertainer who can do a little bit of everything.On top of singing and dancing, Cami is also an aspiring actress. She had a starring role in a short film called Blink Of An Eye which told the story of a young dancer who became addicted to pain medication after an injury.
6.She Is A Student At The University Of Buffalo
Cami was born and raised in Buffalo, NY and decided to stay close to home for college. She is currently a student at the University of Buffalo. Her bio on the NBC website lists her major as musical theater, however, the bio on her personal website lists her major as digital media. Either way, it's clear that she hopes to have some kind of career in the arts.
7. She Has Competed In Other Singing Competitions
The Voice appears to be the first time Cami Clune has been on a TV competition show, but it's not the first time she's been in a singing competition. She won Buffalo Italian Idol Winner in 2014, Amherst Idol in 2015, and the Buffalo Sings contest in 2017. Hopefully she'll be able to add a win on The Voice to the list.
8. She Loves Helping Others
Cami is the kind of person who has always been passionate about helping other people and she has used her platform to do just that. She founded an organization called Backyard Broadway which uses the power of the arts to put on performances that raise money for people in need.
9. She Has A Boyfriend
Now that she is on her way to becoming a star, there are probably lots of people sliding in Cami's DMs hoping for a chance with the talented singer. Cami, however, has no interest in entertaining any of that. She is in a happy relationship with someone named Matt McNeela. Unfortunately, Matt's Instagram account is private so we weren't able to find any additional information about him.
10. She Is A YouTuber
If you've been itching to see (and hear) more from Cami since her blind audition on The Voice, you may be happy to know that she has a YouTube channel where she regularly posts videos of herself singing covers and other performances. Although her channel has fewer than 1,000 subscribers, it has nearly 35,000 total views. As more and more people begin to discover Cami from The Voice, there's a very good chance that all of her social media accounts will blow up.