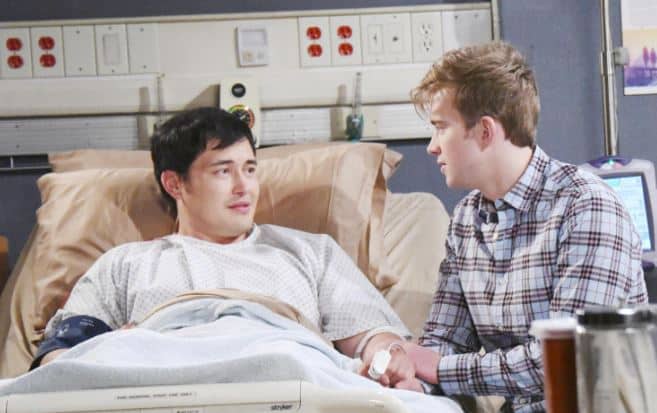 Days of Our Lives fans are excited to go into a new week and hopefully some new successes and triumphs for their favorite characters. It has, after all, been a very long week filled with stressful moments and other situations that all went down. Last week was more than a handful for so many people. John may have had the roughest week of all with all that was going on with Marlena, but it's all turned out for the best. Kayla was able to do the most miraculous thing imaginable, and she saved the day. It all worked out, but we also got to see that Sami began realizing that perhaps EJ is alive and well, and that he might be somewhere she can find him and make him hers again.
And that might be a bit much. She's currently bribing the very elusive Stefan to see if she can get him to get her some answers. We are not really sure why she might feel that he will honestly help her or that he can even help her at all, but they are both such amazing people who do have some serious issues to work out, so it might be possible that they can. They might be able to make this happen and really get their situation under control. We don't know, though, and we are not entirely certain it will work her for. If he is alive, she's got to figure out why, when, what, where, and who. That's a lot of questions to try and find answers to, and she might even find that he's not willing to come home. Is there a chance she might not even have him in her life again and she's working very hard to make this happen for nothing? Will she get what she wants?
What's Happening on Days of Our Lives
https://twitter.com/grumpy_bear5/status/1048268434251833344?ref_src=twsrc%5Etfw
We aren't sure anyone really saw this coming, but here it is. And there it is, and we don't know what might happen now. All we know is that Jennifer's life is about to change – again. And she's not going to be very happy. How do you feel about this one?
What's Next on Days of Our Lives
Eric lost Nicole once, and he's not going to lose her again – regardless of what Xander has done. What Days of our Lives, weekdays on NBC. pic.twitter.com/VOqNOsJQqW

— Days of our Lives (@nbcdays) October 5, 2018
It looks like we are all about to see a big thing go down in terms of what Brady is up to. He's doing what he does best, which is making sure he can get what he wants from women. Do you remember when he began working on Eve by playing her into thinking that he was in love with her when he wasn't? Of course, he did end up falling for her and all that worked out for him, but that was different. He does this, and that's what he is going to do with Kristen. He needs to gain her trust, and that's what he's going to do. This is a tough mission for him, and he can make it work. He's got to get her guard down, and we think he can do it. He's not going to fail.
Eve, on the other hand, might not be so happy about the way that's going. She's not going to appreciate that he is there to spend that kind of time with her or to get this close to her. She wants him all to herself, and who can blame her? They are a couple, and things are not good for them. They've never really been great for them, but they really do need to get things together if they are going to have some positive future potential. We don't know that they can do that, though. It's too much for them to focus on themselves in these trying times with their families.
Stay tuned for more Days of Our Lives and be sure to check out TVOvermind daily for the latest Days of Our Lives spoilers, news, and updates.