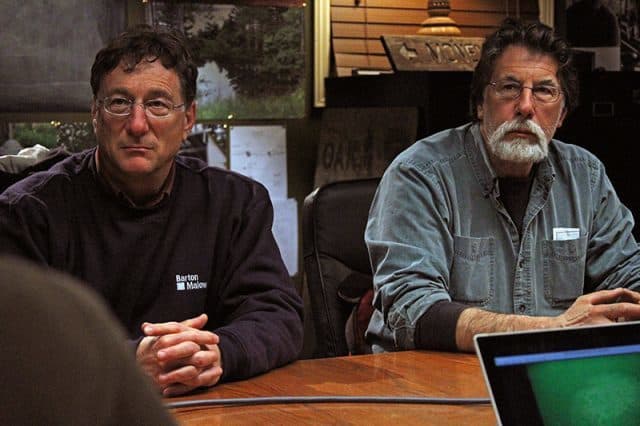 Are you a fan of "The Curse of Oak Island?" If so, we have some important information for you. Since the show has become so intensely popular, the demands for licensed merchandise has increased and people are asking where they can find the official merchandise. If you're one of them, we can tell you that it's just on the horizon. With the start of the fifth season upon us, many viewers are becoming excited about what's going to happen in the episodes soon to come. It's time to don your apparel and drink your favorite beverage from your "The Curse of Oak Island" in an official mug. Although shipping to the United States has not yet commenced, it's not far off. Here is what we know about it so far
An announcement has been made
Rick and Marty Lagina along with the rest of the "Fellowship of the Dig" group recently posted on social media that they are in teh process of opening their online store. Oak Island Tours, Inc. is the name of the parent company that is owned by the Laginas and the store is currently open and shipping their official merchandise within the country of Canada. This was big news and Canadian fans are ecstatic!
What about the USA?
If you're a fan residing in the United States, you shouldn't have long to wait. When the Laginas announced the online store opening for Canadian shipping, they didn't forget about you who live in the US. They're still in the process of taking care of all of the details that go along with opening a new business. They were careful to let us know that they are planning to offer shipping to the USA. They promised to make the announcement as soon as they are ready to start, so this means you'll need to keep an eye out for this special bulletin.
The History Channel is another venue
Currently, the History Channel is also a vendor of the licensed "The Curse of Oak Island" merchandise. They are in the process of renovatingtheir online store to offer a new and improved version. When this is complete then they too will offer "The Curse of Oak Island" merchandise to customers in the United States.
Coming soon
Although there isn't a place to purchase "The Curse of Oak Island" merchandise yet, it's not far off. If you're interested in shopping for these novel items that remind you of your favorite television series, you will soon be able to do so. The season 5 premiere is set to air on the History channel on November 7th so put it on your calendar so you don't forget. You can find out when the online store will officially open up shipping to the United States by checking with their website. You can also keep an eye on the History Channel website to keep tabs on their progress in completing the renovations they'e making for their new online store. We know that it's tough to wait, but more news will be coming soon and you'll soon have two different places to order your favorite branded t shirts, coffee mugs and other "The Curse of Oak Island" merchandise.