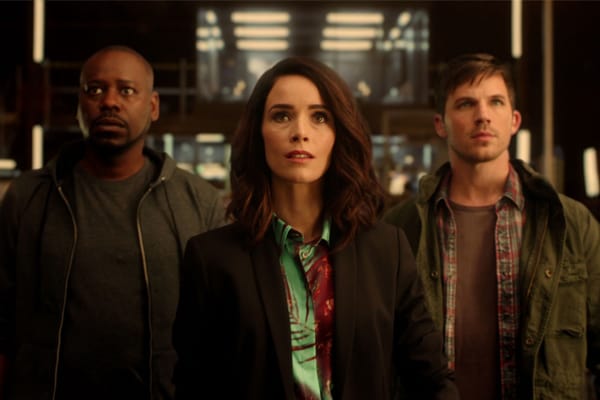 Last week, the television networks unveiled for us their fall television lineups. Prior to those announcements, TV fans also received the news regarding which of their favorite shows would be renewed for another year. Others like The Mick, Kevin Can Wait, and Great News received the axe and were cancelled. There are still five shows on basic network TV that have yet to learn their fate. Here are our thoughts if they will be back next season.
Code Black
When CBS was asked about the status of Code Black, they announced that the series' third season had not aired enough episodes for them to make the determination if they would grant a season four. The series began airing fresh new episodes on April 25th. Code Black has always been a series on the bubble when faced with renewal, so it would not be surprising if CBS finally puts this drama to rest. However, it could continue on a Summer series since CBS cancelled many of those series last year.
LA to Vegas
LA to Vegas has a lot going for it. Sharp writing and a great cast are lacking on many shows out there. However, how much story can a writing team come up with about a airliner that flies from LA to Vegas every weekend? Since FOX has cleaned shop on a lot of their other series with more critical acclaim (Lucifer and The Mick), don't expect many more upcoming flights for this series.
Ghosted
Ghosted was one of the new fall shows that I was dying to check out. I loved Adam Scott on Parks and Recreation and enjoyed Craig Robinson on The Office. The comedy performed well during its first initial episodes, but the network never aired the final 3 episodes of season 1. If FOX needs to make a call between Ghosted or LA to Vegas, Ghosted will be the victor. However, I think it may be a goner too.
Champions
Champions is a comedy that you may not even know was on television. Even the biggest fans did not realize that Mindy Kaling was making her television return to NBC with this comedy, because the network barely marketed it. Their focus was more on the new series AP Bio, which will be back for season two. As much as I love Kaling, this series will likely get axed to make room for a new show.
Timeless
Timeless is by far the best series on this list. Originally cancelled at the end of season 1, the network decided to bring the series back once they heard the outcry from fans. Season 2 is even better than the first (which we didn't think was possible). Also, the season finale twist deserves a season 3. I hope that NBC finds room on their schedule for this series, which I think would be a great addition to the Summer schedule now that The Night Shift is gone.
Which of these series do you think will be back next season? Let us know in the comments section below.
Photo by: NBC