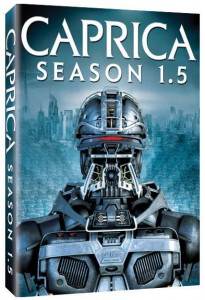 Well, how odd is it that DVD details for the second half of Caprica's doomed first (and only) season would be released on the same day the series is canceled? Yet, here they are – some of them, anyway.
The Caprica 1.5 set consists of 3 DVDs, and so far no Blu-Ray edition has been announced. Our friends at TVShowsonDVD.com tell us that this release will include the final five episodes that aren't scheduled to air on SyFy until 2011 – which will not affect this set's December 21, 2010 release date. In other words, buying it will get you the episodes earlier, though I wonder what that will mean for the ratings of Caprica's final broadcasts.
Here's the synopsis released by Universal:
"Presented uninterrupted and in Dolby 5.1 surround sound, the first season of the critically-acclaimed drama from Executive Producers Ronald D. Moore and David Eick comes to a thrilling climax in Caprica Season 1.5. Fifty-eight years before the events of Battlestar Galactica, mankind is wrestling with the question of what makes one human, and sealing its own fate of certain destruction. Alliances are made, secrets are revealed, and lives are forever changed while the conflict between man and machine takes shape. As the season races towards its stunning conclusion, the seeds are sown for the inevitable, brutal clash between the newly-born Cylon race and its human creators."
TSoD also reports a vague description of the set's bonus features, which are so far slated to include "deleted scenes, commentary, video blogs and podcasts with executive producer David Eick." The list price is set at $49.98.
As we know more, we'll bring it to you!