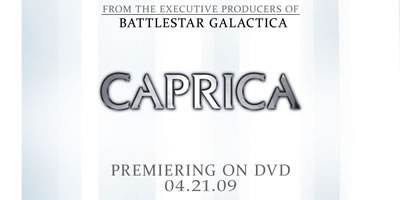 Battlestar Galactica fans who were upset at the prospect of waiting until 2010 to see the new prequel series Caprica can breathe a sigh of relief. Universal Studios Home Entertainment announced today that the pilot episode of Caprica will be going straight to DVD in an unrated and uncut version on April 21, 2009. The DVD will also feature deleted scenes, commentary by director Jeffrey Reiner and executive producers Ronald D. Moore and David Eick, as well as four video blogs titled What the Frak is Caprica?; The Director's Process; The V Club; and The Birth of a Cylon. The uncut DVD will be an hour and thirty-three minutes long.
"We wanted to give them a chance to see the pilot in its original form and experience the prequel to the BSG story while that series' finale was still ringing in their ears," Sci-fi Executive Vice President Mark Stern said. "It also affords the creative team an unprecedented chance to get viewers feedback before production on the Caprica series begins this summer."
This will mean that the fans who purchase the DVD will end up having some say so on how the show develops. Caprica begins shooting this summer for a release sometime in 2010. The official synopsis of the show is:
"Set 50 years before Battlestar Galactica, Caprica follows two rival families and their patriarchs — Daniel Graystone (Eric Stoltz, Paula Malcomson, who plays Amanda Graystone) and Joseph Adama (Esai Morales) — as they compete and thrive in the vibrant world of the 12 Colonies, a society recognizably close to our own. Enmeshed in the burgeoning technology of artificial intelligence and robotics that will eventually lead to the creation of the Cylons, the two houses go toe-to-toe blending action with corporate conspiracy and sexual politics."
Battlestar Galactica showrunner Ronald Moore added a bit more saying, "If Battlestar Galactica offered us a way to shatter the conventions of space opera, Caprica will be a show which will challenge the conventions of science-fiction storytelling as a whole."
The only bad news in all of this is that it will likely delay the release of the Battlestar Galactica television movie "The Plan" until sometime in the fall, at the earliest. This is due to the fact that Glen Larson owns the movie rights to Battlestar Galactica and a straight to DVD release of a BSG telemovie could classify it as a movie instead of a television show. Larson only has limited rights to Caprica, which is why they are able to release it straight to DVD. The timing of the Caprica release means that fans will be able to pre-order the DVD a few weeks before the final episode of Battlestar Galactica, and will be watching it just over a month after Galactica has its series finale. The Caprica DVD will retail for $26.98.
Battlestar Galactic's series finale is March 20.