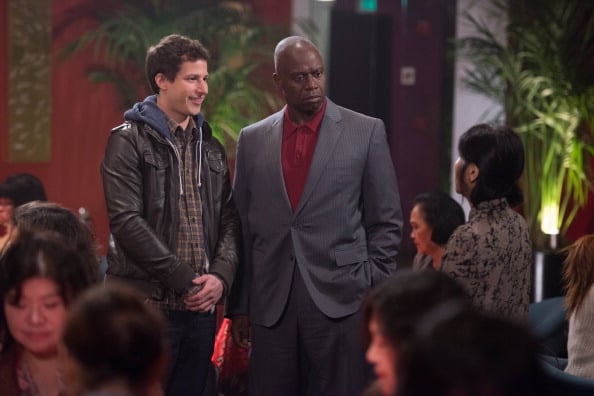 If there is one show that has really pleasantly surprised me this season, it is Brooklyn Nine-Nine. Insanely funny and well written, the show is made even tighter by an absolutely awesome ensemble cast who work incredibly well together. The show has a character for everyone. Even characters like Andy Samberg's, who would get on your nerves anyone else was playing him, are great. Now we find out Captain Holt gets a husband. Well, we knew he had a husband. We just meant he gets a husband cast.
As TV Line points out, Captain Holt gets a husband in form of actor Marc Evan Jackson. He is most well-known for playing kooky lawyer Trevor Nelsson on Parks and Recreation. We know little about the character so far, but we do know one thing that should work as serious comic foil when they introduce him in 2014. His name (on the show) will be Kevin Cozner. As you can imagine, this is going to lead to some great Kevin Costner jokes, and I am sad I have to wait until 2014 to experience them.
Also, we want to take a moment to offer the show some credit for being so progressive in their story lines. Well played, Brooklyn Nine-Nine. Captain Holt gets a husband, and we get another awesome cast member for this wonderful show.
Photo by: Eddy Chen/NBC/NBCU Photo Bank via Getty Images