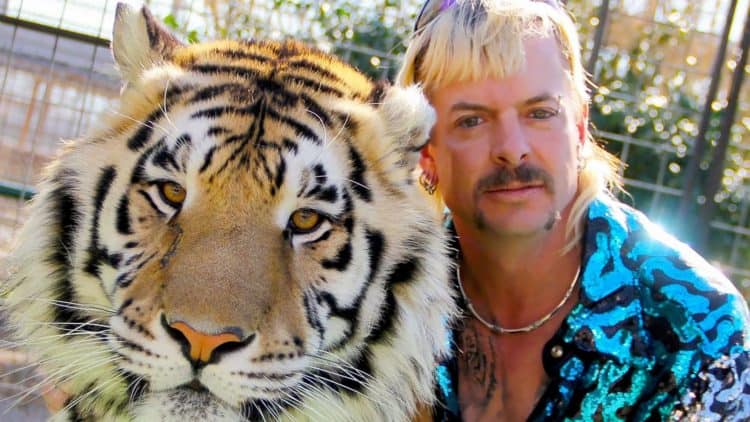 This kind of reaction might make a person wonder if Cardi B is really a stable individual at this point, or it could make someone wonder that since she's been able to avoid any punishment for the things she did back in the day, maybe that's tainted her thinking when it comes to others. Let's not forget, and bring it up just once at least, that Cardi B at one point in her life would actually invite men back to a hotel room, under the guise of wanting to have sex with them, drug them, and then rob them. So yes, the men weren't angels obviously, but like it or not, that's breaking the law, and she never got caught, likely because none of the men wanted to admit what had happened. But stating that she wants to start a GoFundMe for someone like Joe Exotic, who's in prison for multiple crimes, is mind-boggling, even for Cardi B. Ironically she hasn't opened the account yet, as until such a thing happens it shows that she's all mouth and no follow through. But even mentioning it has brought a great deal of flak from others as Kevin Burwick of MovieWeb has stated. And why shouldn't it? If it was one crime that Joe had committed and there were extenuating circumstances that could be blamed then it might be enough to think that he's being framed, railroaded, or 'done dirty' as some might want to state. But the man is in prison for the next 22 years for SEVERAL crimes. The amount of work it would take to create that many trumped up charges would be too much to not leave some sort of trail that might lead to someone attempting to frame him, which is something that appears to have escaped Cardi B's notice. Strange how that happens, right?
What's even funnier than that is the fact that if the quarantine wasn't currently in effect and if Netflix hadn't jumped all over the Joe Exotic story, Cardi B would have likely been one of the many that wouldn't have cared a single bit about this story as she may well have let it just pass her on by as she has many of the other tales that would enact her bleeding-heart, white knight reaction. It's amusing what boredom does since it allows people to look around and notice the world that's passing them by on all sides as they focus on their otherwise fast-paced and hectic life. It's true that she might have still noticed the documentary on Netflix and might have still reacted, but given the fact that there are so many stories on there that she appears to have gone without noticing, or perhaps thinks are accurate enough that the people being blamed for one crime or another don't need her help, this one makes Cardi B look a little less than stable since Joe Exotic was brought up on some pretty serious charges with a boatload of evidence. The rapper might need to sit back and chill out a bit before thinking about flying off the hook and making good on her words to set up that GoFundMe account, especially given that if she's going to champion someone like Joe Exotic and not bother with anyone else it makes her look more than a little disingenuous. The whole cry of 'Well what have you done for anyone?' from those that might want to agree with Cardi's decision is kind of inane and less than intelligent at this point since anyone NOT championing a person like Joe Exotic is thankfully in their right mind at the moment. Boredom and a need to be in the headlines definitely causes some people to say some strange and unnerving things, doesn't it?
Next thing you know, Cardi B might actually go out and champion every other person she sees in a documentary that's been accused of a crime. It's enough to make a person shake their head and wonder just what the rapper is thinking, but really, seeing a conspiracy where none exists is a common habit of a lot of people and tends to happen from time to time. Like it or not, Joe Exotic did some very bad things and is currently paying for them even if he's trying to appeal the decision and gain a pardon. If he did manage to get such a pardon and a reduced sentence then it's further proof that our justice system is insanely flawed, not that Cardi B is right, since that ship set sail a long, long time ago. Like it or not, it's tough to take any kind of moral lesson from someone that can, in her own mind, justify what she did years ago as a survival trait when she had other opportunities to do the right thing.