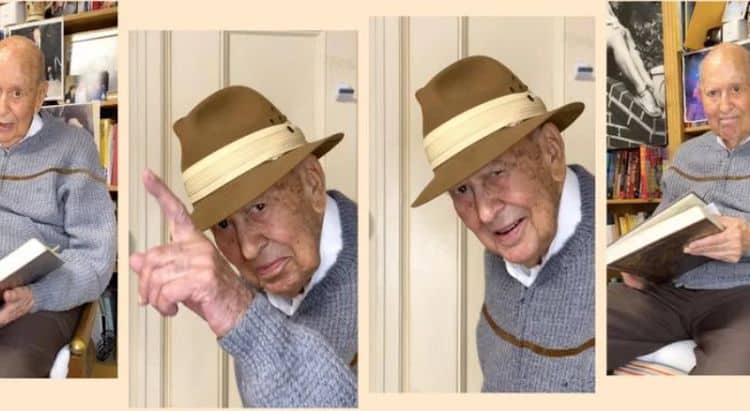 I'm not crying, you're crying, okay neither of us was really crying…[sniff]. All joking aside it's difficult NOT to feel your eyes mist up at this performance of The Princess Bride, it's the final scene at least, that was performed by the great Carl Reiner and his son Rob. Those that remember this movie fondly and have seen it more than once likely remember this touching scene at the end and might have started tearing up the moment Carl stood up and made for the door. Nearly a century old and Carl was still capable of pulling off an iconic scene like this is in a way that veteran actors in their prime might have trouble with now and again, that speaks of talent and an innate sense of how to keep the fans interested and hooked. The Princess Bride is one of the many stories that a lot of us will likely remember until the day we pass on, but with no offense to Peter Falk and Fred Savage, this touching moment between Carl and his son Rob is bound to be immortalized in its own way since it was handled with such care and respect that it's difficult to think otherwise, so we won't even bother. There are actors in this world that one can't help but respect immensely for the sheer amount of love and dignity they put into a role, and Carl was one of those.
"As you wish." ❤️ In his final performance, Carl Reiner shares a special goodbye with his son Rob as part of the fan-film version of The Princess Bride: https://t.co/ykEQy1KN5w pic.twitter.com/EgE4djHvRh

— VANITY FAIR (@VanityFair) July 10, 2020
It was only three days later that he would be gone, moving on from this world and leaving behind a lifetime of memories for others to enjoy, but this one clip feels like the perfect cap on a life that was spent in service to others, making them laugh and giving them something to enjoy with each breath as every performance was a way to remind people to live, to laugh, and to love what they do. Even die-hard fans of The Princess Bride shouldn't be able to say anything against this clip as it was so well done that the only way to measure it was against the original, and many might agree that if Carl had taken on this role instead of Peter it might have come out just as great and every bit as inspired. But yes, the movie did have a great cast and they all had a hand in creating the types of memories that we've carried with us throughout our lives, though thankfully there are moments such as this when one can't help but agree that there are those that can add to that memory, not alter it, in a way that makes said memory even better.
It is interesting to think of how different this movie could have been if it had gone with a couple of different casting decisions. A lot of people might not recall that Andre the Giant wasn't the first person to be selected for the role of Fezzik, as Kareem Abdul Jabbar was the first selection, though he couldn't fulfill the obligation due to his NBA career. But it's easy then to wonder just how many of the other cast members might not have been the first choice, even if they ended up being perfect for the movie. Many of us probably can't even fathom what the movie would have been like if several other casting choices might have been different, though it's likely that if we did hold up the movie fondly after learning said information that we would still be talking about what differences might have been obvious and what the movie might have been like. Carl Reiner would have been a great addition to the movie decades ago as well since for a long time he was the kind of character that many couldn't help but agree had the kind of presence that could make him fit in just about anywhere. In a clip such as this, it was obvious that a lot of people could have seen him as an aging grandfather that was sharp as a tack and the funny, engaging type that didn't move quickly but was still possessed of a lightning-swift wit and had an intellect to match. In other words, he was the kind of grandfather character that a lot of people would have loved to work with and it's fair to say that a lot of those that did work him likely enjoyed the experience.
Getting emotional over a single clip might feel silly to some folks, but to others that enjoyed this movie and loved watching Carl Reiner, it's obvious that this one really pulled at the old heartstrings in a very meaningful way. It hasn't been long at all since his passing and to be realistic, it's still going to be rough when remembering everything Carl did for the industry and the legacy he left behind. But just remember that distinct smile and realize that he left behind a life that was worth living, and did so in a way that was just as perfect as this clip.