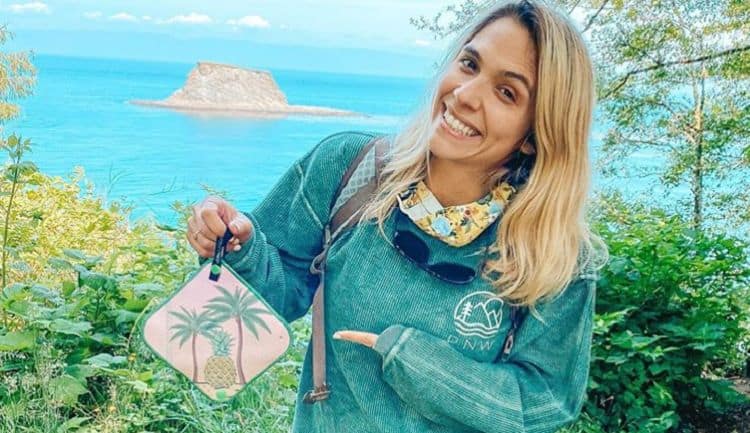 If you regularly listen to 106.1 FM, you've probably gotten pretty familiar with the sound of Carla Marie's voice. She and her co-host, Anthony, were hosts of their own Seattle based show for four and a half years. Both hosts had become well-liked by listeners so everyone was stunned when the station announced that both Carla Marie and Anthony had been let go. Even though getting fired from a job is never a fun situation, Carla Marie and Anthony have both taken the decision in stride. She's not entirely sure what she'll be doing next, but she's not worried that something good will come along. Continue reading for 10 things you didn't know about Carla Marie.
1. She's A Cat Person
Sorry to disappoint all the dog lovers out there, but Carla Marie is a serious cat person. She considers herself a "cool cat mom" and she loves posing for pics with her beloved fur babies, Caroline and Max. She even set up an Instagram account for them, and they have nearly 5,600 followers.
2. She Hosts A Podcast
Radio isn't the only place where Carla Marie's voice can be heard. She also hosts a podcast called Side Hustlers. According to the podcast's description Carla Marie, "launched the Side Hustlers in 2018 to highlight people following a passion while working their regular job. You'll be inspired by their drive, creativity, and hustle. " She and her former radio co-host, Anthony, also have a podcast called MyDayFriday.
3. She Loves To Spend Time Outdoors
Carla Marie is truly an outdoors kind of girl. After years of spending most of her days inside a radio studio, it makes sense that she would want to get out and enjoy the fresh air. She loves going on all sorts of fun outdoor adventures including hikes and camping trips.
4. She's A Positive Person
Keeping a positive mindset isn't always an easy thing to do, but it's something that Carla Marie has made a priority. Even though things don't always work out the way she would've liked, she's always grateful for the opportunities she's given. For example, even though she is upset about the recent loss of her job, she is seeing it as a much needed opportunity to spend more time with her family.
5. She's A New Jersey Native
Cara was born and raised in New Jersey and she will always be a Jersey girl at heart.  Growing up, she spent a lot of time in the summer hanging out at the jersey shore. She attended Rutgers University where she earned a bachelor's degree in Journalism and Media Studies.
6. She's A Blogger
Even outside of her career, Carla Marie loves to create content and connect with her audience. Carla Marie started her own blog and says, "I created this blog to share more about who I am, what I love; travel, fashion, fitness and navigating being unemployed for the first time ever and of course to connect with everyone who's chosen to support me on this wild ride."
7. She's Always Wanted To Work In Radio
From an early age, Carla Marie knew that she didn't want to work a traditional 9-5 office job. Once she learned more about radio, she knew it was the perfect career path for her. She always dreamed of working at her local radio station, Z100, and that dream came true when she was hired as an intern while in college and eventually offered a full-time position.
8. She's Really Close With Her Family
Despite all the success Carla Marie has had throughout the years, she has never once forgotten where she comes from. She has a close knit family and she has leaned on them for support throughout the years. As mentioned earlier, her busy career didn't always leave her with enough time to spend with her loved ones. However, now that she has some free time she is hoping to use some of it with her family.
9. She Likes To Exercise
Working out on a regular basis has lots of physical benefits, but it also goes beyond that. Exercising can have a positive impact on a person's mental health and help with issues like stress and anxiety. Cara loves to get in the gym and burn some calories. She also loves to stay acting by doing things like skiing.
10. She Credits Her Success To One Word
Carla Marie's hard work and dedication have had a lot to do with how far she's gotten in her career, but she says her success is primarily due to one word: yes. She told 425 Magazine, "I just said yes to anything anyone asked me to do. Even if I didn't know how to do it, I would say yes. And then I would figure it out. If I couldn't, I asked questions."