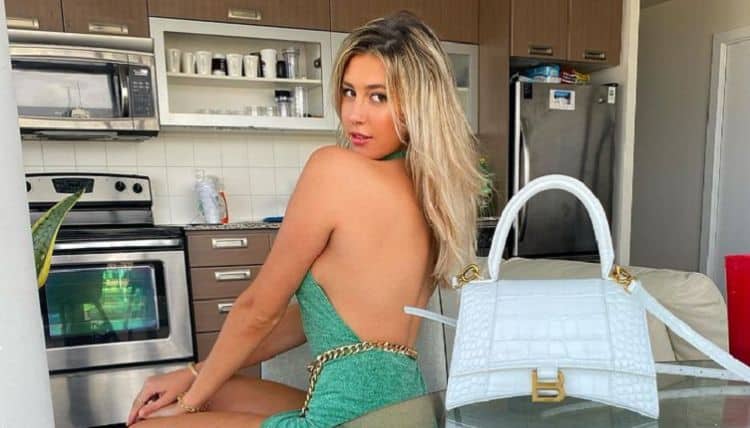 Netflix has brought back their hit show "Too Hot To Handle," for a second season, and this one brings 10 contestants to the islands of Turks and Caicos for a few weeks to see if they can win big money. The entire purpose of the show is to have attractive, young, single people on the island not making any physical contact with one another for the duration of their four-week (ish) stay. They get to have more money in the end if they can do this without touching anyone. They couldn't all handle it, but some were fine with it, and Carly Lawrence is one of 10 new people to find her way onto the show. Who is she? And what can we expect from her in the new season?
1. She's a Model
She spends her time working on modeling. She specifically models for a brand based out of Toronto, Canada. The brand is Hayley Elsaesser. She spends her time focused on that, and she is currently looking to grow her social media through her newfound fame.
2. She is Canadian
Carly Lawrence is a Canadian. She was born and raised in Toronto, where she spent her entire childhood with her family. She's only 24 right now, and she is still close to her family. Though we imagine she enjoyed spending some time on an island while her own country is heavily locked down and no one can do anything enjoyable.
3. She's a Dancer
Growing up, she was a dancer. She spent her childhood learning to dance competitively, and she was good. It takes a serious athlete to dance competitively, and it was something she loved doing as a child. She's good, but it also helped her to maintain strength and a healthy body while she was growing up.
4. She Loves to Have Fun
Her favorite thing to do in life is have a good time. She is a good time, too. She loves to party, to spend time with her friends, and to make memories as often as possible. She is always up for a good time, and there are few things that will stop her from going out and having fun when the opportunity presents itself.
5. She Doesn't Do Rules
She's someone who will tell you from the start that rules are simply not something that works for her. She does not like to follow them, she is not a fan of making them a priority in her life, and she is not someone who can handle anything that requires her to focus on rules as a whole. She is a rule-breaker, and she seems like the type who likes to cause a little trouble.
6. She Has a Type
She has a type, and that happens to include men with bald heads and piercings. She seems to have a streak in her that is a bit rebellious considering most men her age right now are all about long hair and big hair – she wants to see something different.
7. She's Not into Commitment
She is a young woman who does not do commitment. She likes to keep her options open, and she likes to be free. She's not into being in a relationship, and she never wants to feel as if she is being tied down. We hear that many of the young men on the show have eyes only for her, but it seems that she's not that into them or being in a long-term situation.
8. She is Always About a Bikini
If we learned anything from Carly's social media pages, it's that she is most comfortable in a bikini and in front of the camera. She's happy to have those photos on her feed, and it shows us that she has a great deal of confidence. However, she also opens up on the show and shares that she has some confidence issues that do not allow her to open up.
9. She Travels
She is a travel lover, like so many. Perhaps being born and raised in Canada has caused her to love to spend her time in more tropical locations, but that is where she likes to be. She is often on the beach, in much warmer locations, and she loves to share photos.
10. She is Not Looking for Love
She is on this show for her own reasons, and those reasons do not include looking for love in any capacity. She likes to do things her own way, and she is not there to find her husband or her forever. She's there to win and to have fun, and that's all she's about.