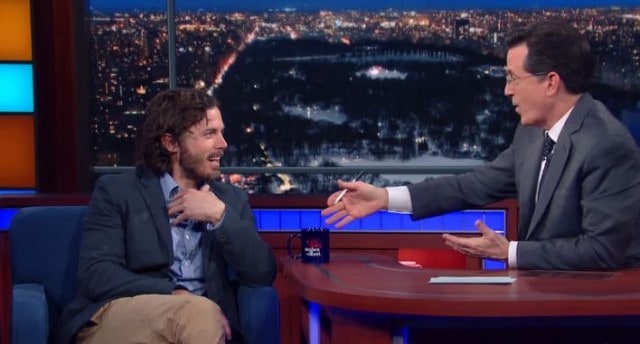 If you were watching The Late Show With Stephen Colbert last night, no one could blame you for cringing a little bit during Colbert's interview with Casey Affleck. While I'm an avid Colbert viewer and typically a fan of the way he conducts interviews, even I can't deny that he and Affleck got off to a rough start as soon as the Triple 9 star sat down. However, the opening moments of the interview aren't even the worst part.
In the video below, Colbert opens up his interview with Casey Affleck by thanking him for "dressing up." Affleck tries laughing at first, but it's clear that he quickly grows tired of the joke.
"I can't tell if this choice is the most celebrity thing to do or the least celebrity thing to do," Colbert says to him.
Things between the two of them then get even more uncomfortable after Affleck looks into his mug, with Colbert telling him that "it's just water. Did you want something better than water?"
"How long are we going to talk about this?" Affleck says, appearing annoyed.
But the most awkward part of the interview comes after Colbert says that the two of them should "probably end up fighting" after it's over.
"You want to fight me?" Affleck asks.
"No, it feels like this is where this is going," Colbert says. "And I'm wearing glasses, so you could possibly throw a punch at me."
Watch the full interview between Stephen Colbert and Casey Affleck below, and let us know what you think in the comments. Were both men to blame for the tension, or did only one of them cause it? And was the interview as awkward as everyone is hyping it up to be?
[Photo via YouTube]