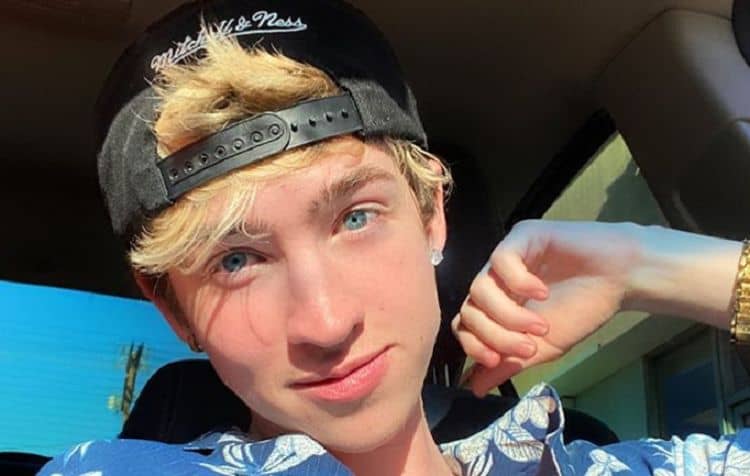 If you keep up with the internet, then you know about the trending video application Tik Tok. It is popular among teenagers, where you can come up with creative videos. The app has brought out several personalities known for their knack in bringing out funny and memorable videos that are shared all over the internet. Among the key personalities in Tik Tok is Cash Baker. He started by releasing lip sync videos, which shot up his fame and amassed him several followers on the platform. This popularity cemented his place in the online domain as a celebrity with tons of followers. If you have the interest in knowing more about this celebrity, then stick on as we go through ten things you probably did not know about him.
1. His Early Life
Cash Baker was born on the 5th of March, 2003 in the United States of America to Rick and Tara Baker. He grew up in Tulsa, Oklahoma, and he is presently a high school student. Despite his popularity, there is a particular aspect of his life that is not in the open. We still cannot regard him as being private, as he is still not an adult.
2. The Sibling Connection
It seems the internet was a gift to the Baker family as his siblings have also made a name for themselves on the vast online domain. He has two elder siblings, a brother and a sister. His brother, Maverick, also features on Tik Tok, and together they have made several appearances in videos. He has also amassed a large following on the social platform. His sister is Lani Baker, who is an online model and blogger. It seems the online domain is the perfect hub for the Baker siblings as they have made it their stronghold.
3. His Music Career
According to Everipedia, Baker identifies himself as a musician. He started exploring his musical inclination with his brother when they released the lip-sync videos on the social platform. He started doing covers of famous musicians such as John Legend, Lil Peep, and Max Schneider. In 2018, together with his brother, they released their first song, 'The way you move.' The video proved to be popular with their followers, and at the moment, it has over 6.5 million views on YouTube. He is planning on another release soon.
4. Body Build
It is no secret that most of Cash Baker's fans are members of the opposite sex. Many ladies adore him due to his striking looks, described as handsome. He is still young but has a fantastic height of six feet, meaning he is impressively tall. He spots blonde hair just like his brother and has a slim built weighing 68 kilograms. In the looks department, he is well and could transition into a career that puts much emphasis on looks such as modeling or in film.
5. Social Media Presence
It is social media that built Cash Baker's popularity; hence it is an expectation that he is active on the various social platforms on the online domain. He has a presence in popular platforms such as Twitter, Instagram, Facebook, and his hub, Tik Tok. He is more prominent in Tik Tok, where he has an excellent following of almost 14 million followers. His creative videos are the force behind his popularity. He is also active on Instagram, where he has a 1.5 million-strong following. He continually updates his feed, where he keeps in touch with his several fans.
6. Influencer Career
A look at his impressive social media following gives you a hint of his other venture, influencing. Using his online popularity, he can land endorsement deals with various companies or businesses to boost their appeal. It is a form of marketing that is gaining traction due to the emergence of social media platforms.
7. His Net Worth
One area fans are always digging is the net worth and earnings of their favorite celebrities. The same applies to Cash Baker with being curious about what he rakes from his online activities. According to Idol Wiki his net worth is somewhere around $500,000. If this is true, then it is impressive considering that he is still young and not even considered an adult. If he keeps up the pace, then he can easily claw up to the million-dollar mark.
8. Hobbies
Cash Baker seems to be the kind that loves some fun going on, and this is evident from his choice of hobbies. If you are his keen follower on social media, then you realize that he has a penchant for motocross. He is either watching or taking part, though, as at the moment, it is not clear if he is into competitive cycling. He also loves skateboarding, and he uploads several photos and videos of him hitting the deck. Aside from skateboarding and motocross, he is also a great swimmer and loves photography.
9. Relationships
At the moment, Cash is only 16; hence there is no chance of him being married. He is straight, but there is no information about who he is dating at the moment. Some sites indicate that he is single, but there has been no confirmation of it from the internet personality.
10. Cash And Maverick
As earlier indicated, Cash and his elder brother are a duo and have been in several lip-sync projects under their respective accounts in Tik Tok. The two are close, and despite their three-year age difference, they are tight and dedicated to come up with various projects. There are some on the way, and we might soon see the two be top of the billboards courtesy of the musical inclinations.
Conclusion
Cash Baker has made a name for himself in the online entertainment scene courtesy of his lip sync work with his brother on Tik Tok. He is quite young, and at sixteen years, he has a lot of opportunities in front of him in his musical and social influencing career. You can catch him on Tik Tok or Instagram for a touch of his amazing videos.