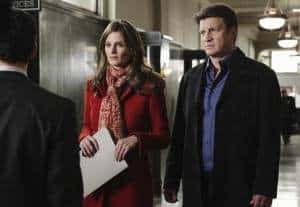 The good thing about Castle is that even when the show delivers what could pass as a filler episode, it is still great. 'Law & Murder'wasn't the best episode ever, but for once, I was actually interested in the case and, despite the many twists and turns (and the mile long list of suspects), I found that it was very carefully thought out and I didn't feel lost, as I have in the past with other cases.
I'll be the first to admit that I am not into the whole Court House, judges, lawyers and trials thing. I have been trying to watch The Good Wife — which is a fantastic, brilliantly written show — for months and only just finished the first season this weekend. I try, but I am just not interested in it at all. So kudos to the Castle writers for actually grabbing my attention with this case.
There weren't any major developments in this episode, but I have to say I am thrilled that they finally gave Alexis a decent storyline. She has been grossly underused this season — and so have Lanie and Captain Montgomery — and it felt like she was just there to sometimes give Castle the insight he needed to break the case. So it was great to delve a little deeper into his relationship with his daughter.
After all, Alexis is a teen and although she is a really nice, mature young woman, there is so much storytelling potential there that I couldn't understand why they were just putting her in the backburner all season long. Sure she has the boyfriend storyline, but come on, isn't Castle's family life supposed to be a big part of this show? I am so glad that they have finally given her something to do and that it was something that teens could actually relate to. Of course she wouldn't shoplift, that's just not who she is. But the fact that she tried to hide it from her dad, had a major fight with him and eventually came clean just made her look so much more like a real teenager to me.
And before you ask, I am totally siding with Alexis on the tracker phone debacle. If my mom or dad ever did that to me, I would feel so violated and think that my parents don't think I'm trustworthy. I also loved that, while Beckett sided with Alexis too, she showed sympathy and support for Castle when he was miserable after his fight with his kid.
Regarding their relationship — or lack there of — I think this episode has firmly planted them in the best friends category. They like spending time together, they care about each other, but I think Kate is really trying to give it an honest shot with Josh and Castle is being a gentleman and backing off. I think, at this point, he has resigned himself to have at the very least her friendship. Although it was very sneaky of him to score that non date with her, pretending he had never seen Forbidden Planet.
Now, while I'm cool with how things are progressing between them — and I don't think them being best friends is necessarily a bad thing — I am not going to be this patient forever. I am cool with it now, but I'd like to see some developments towards the end of the season, otherwise it feels like they have been building up this relationship through the best part of season 3 for a whole lot of nothing, if they are to remain just friends. As it is now, I think we are almost at that crucial line between sexual tension and brother/sister banter.
So come on, Mr. Marlowe. Don't disappoint me. I have faith in you.
Check out a sneak peek for next week's episode 'Slice of Death'below and don't forget to join the discussion in our Castle Forum.