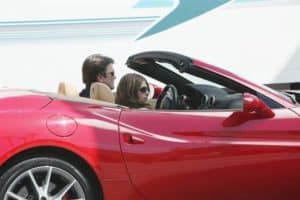 Last night we finally got to watch the highly — and I mean highly — anticipated Castle LA episode. 'To Love and Die in LA'featured the murder of Beckett's former training officer, Mike Royce, which hit Beckett really hard. After Montgomery insisting that the case should be assigned to someone else because she was too close to it, Beckett uncharacteristically agrees and announces she is going to use some vacation days to get her mind off of everything that happened.
Of course she has her own agenda and immediately gets on a plane to Los Angeles to follow a suspect's trail. She wasn't counting, however, on Castle predicting she would do exactly that and tagging along. Eventually he convinces her to share a two-bedroom suite while they investigate the case in LA, with Ryan and Esposito helping out from New York.
What surprised me about this episode was the tone. Maybe I was expecting something a little bit darker, a little bit more dramatic than what they delivered, but they caught me completely off guard with the somewhat lighter tone that permeated the entire episode. Sure there were some intense and dramatic moments, but they were definitely outnumbered by the funny moments. While that's not a bad thing — far from it, in fact — it just threw me off a bit and didn't quite live up to my expectations. Again, maybe my expectations were entirely too high for this episode, especially after the sneak peek released last Friday of their conversation in the hotel suite.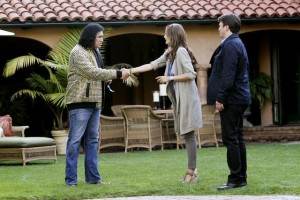 That said, let's discuss the good things. First, it was great seeing Lanie and Esposito together again. I had thought that particular storyline had been pushed to the backburner so it was good to see that they are tying the loose ends on the subplots. One of my favorite aspects of 'To Love and Die in LA'— aside from the insight into the relationship between Castle and Beckett — was that they explored the close friendship between Beckett and the boys. While we know they always protect one of their own, it was good to see them working hard to help her out and covering for her. Not to mention the easy camaraderie between the three of them. I think maybe for the first time, they portrayed that friendship in a different light than Beckett being their boss.
The fact that Captain Montgomery called her out on doing something reckless and actually gave her a really hard time about going to LA and doing stupid things was a nice change of pace. It showed that Beckett is not invincible and not above good and evil in the eyes of our good Captain. She may be his favorite and I truly believe he sees her like a daughter and because of that, he called her out on her actions and admonished her like any father would.
I loved the fact that, even though from the spoilers it seemed like there would be a lot going on, the episode seemed to flow quite nicely. The guest stars were all great and I particularly enjoyed D. B. Sweeney the most. The actors playing Raley and Ochoa in Heat Wave were also great, especially when they helped Beckett and Castle bring that security guard in for questioning in the fake interrogation room in the Heat Wave set.
Something that I definitely need to point out is that we got to see a different side of Beckett. I had expected to see a change in her demeanor — being away from New York and not having any kind of authority in Los Angeles — but I absolutely loved seeing a lighter, softer side of her character. She was still our same old, kickass Beckett, but she was also more vulnerable and less guarded than she usually is. She seemed particularly carefree with her comments and actions which makes me think that this is the real Kate Beckett, the one that has been hiding underneath that tough armor ever since her mother was murdered.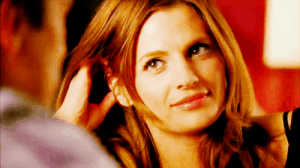 That brings us to her relationship with Castle. 'To Love and Die in LA'finally explored her feelings for him and how she is starting to see the light about how she really feels about her partner. First she got a glimpse on how well he knows her when he predicted exactly how she was going to react and got on a plane after her, no questions asked. That also proved that he is willing to do pretty much anything for her, even if it's something illegal, dangerous or that might jeopardize her career. Whatever it is, he is willing to help in any way that he can. Then he goes and pours his poor heart out to her, catching her completely off guard. Of course he didn't come right out and said that he was head over heels in love with her — which he so obviously is — but what he did say (and you could see that he chose his words very carefully in that scene) was enough to tip her off.
I admit I was disappointed that he was gone when she finally found the courage to come back into the room and confront her feelings. I wasn't surprised, but I couldn't help but feel frustrated that once again they missed each other by mere seconds. Frustration and disappointment aside, all was not lost because that scene served its purpose. It finally made Kate see what has been dancing right in front of her all this time. Add to that the fact that he openly admitted that he was jealous and wanted her all to himself in 'The Dead Pool'— it doesn't matter that he tried to pass it off as a writer/muse relationship — and Kate has at long last gotten the message loud and clear.
That hotel suite scene was a turning point in their relationship and, while I have been frustrated with the whole one step forward, two steps back routine, it seems we are finally at full speed ahead. Of course we know that — SPOILER ALERT — that something is going to happen that will put them at odds in the finale, but for now it seems that they are slowly moving toward being on the same page when it comes to their feelings.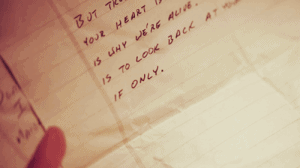 Royce's letter was just the icing on the cake and I believe it has firmly convinced Kate that there really is something between her and Castle and that she should stop second guessing herself and just follow her heart. Hopefully we will see some changes in her behavior in the next couple of episodes. Although, knowing the track record of the show, I am not holding my breath. I'd rather not expect anything and end up pleasantly surprised than expect too much and be disappointed.
Even though 'To Love and Die in LA'wasn't quite what I was expecting, it was still an excellent episode. It will most likely go down in the history of the show as a fan favorite.