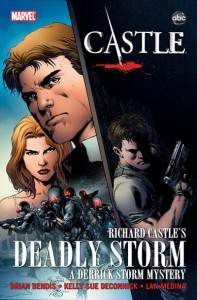 For the second consecutive year, ABC's hit show Castle is headed to San Diego Comic Con. This year, however, they come with a bonus that makes the show – led by Nathan Fillion – fit in even more. As announced a couple of months ago, Marvel has joined forces with ABC to launch a Castle based graphic novel, featuring one of Richard Castle's beloved characters, Derek Storm.
Richard Castle's Deadly Storm is set to debut on September 21st, the same week that the show returns with its fourth season. But before that, we get to enjoy the cast at Comic-Con next Sunday (July 24th) at 11:45 and we will be there to bring you some great scoop about the new season.
The graphic novel, which will be 112 pages long, was written by Brian Michael Bendis (Avengers, Ultimate Comics Spider-Man) and Kelly Sue DeConnick (Captain America and The Secret Avengers). Lan Medina (Fables) handled the interior art and Carlo Pagulayan (Planet Hulk) created the cover art, which will made cameo in the season 3 finale of Castle.
Check out a sneak peek at the graphic novel below.
The season 4 of Castle is scheduled to air on September 19th, at 10pm, on ABC.
[imagebrowser id=1097 template = flipped]