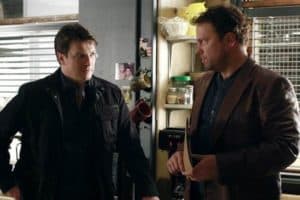 Well, after last night's heartbreaking episode, Castle will be on hiatus for the next two weeks. Maybe that will be enough time for my strong desire to punch Castle in the face for being such a jerk in "The Limey" to subside. The ABC hit show returns with the last stretch of episodes this season on April 16 with a very special reunion. Firefly's alum Adam Baldwin guest stars on episode 21 – titled "Headhunters".
We all know how last night's episode ended, so it is a safe bet that Castle and Beckett will still be at odds on April 16. In this episode, with tensions rising between Castle and Beckett, the writer finds himself a new partner — Detective Ethan Slaughter (Baldwin), a tough and colorful cop from the city's gang unit. But Castle gets more than he bargained for when Slaughter shows him a grittier side of police work that puts Castle in the line of fire like never before.
Is it bad that I really hope something happens to him that will make him see the light about how ridiculously he has been acting? With only three more episode to go, they'd just better resolve this tension already before everything goes to hell in the finale (as we all know it most likely will).
Are you excited about the Firefly reunion on Castle? What about the tension between our dynamic duo? Which side are you on?
Castle returns with an all new episode on April 16 at 10/9C on ABC.