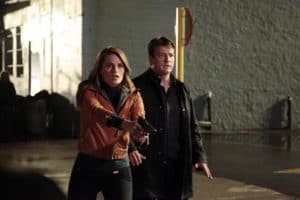 Well, it seems that things will be mostly back to normal on the upcoming April 30 episode of Castle. Or at least as normal as they can be when zombies are presumably responsible for the death of Detective Beckett's team's current victim. ABC has just released the promotional photos for "Undead Again" and, well, at least Castle seems to be working with Beckett again, so whatever goes down in next week's episode may settle their communication issues once and for all.
A girl can dream, right?
Anyway, in "Undead Again", Castle and Beckett investigate the murder of a man with human bite marks on his body, which obviously makes Castle's wild theories start flying. But none are as wild as what their only witness insists happened – a Zombie attack. As the evidence pointing towards an undead assailant piles up, the team plunges into New York's Zombie subculture to find the killer and bring him in — dead, undead or alive.
Let's not forget that this is the last episode before the season finale and, if memory serves me right, Andrew Marlowe said that secrets would be out by then. Can we actually hope that that's true? What's your take on it?
"Undead Again" is scheduled to air on April 30 at 10/9c on ABC.