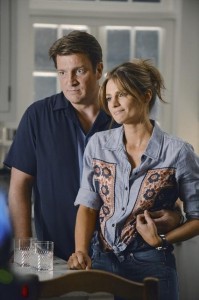 Seriously, can Castle and Beckett get any cuter? Just when you think the adorableness of our favorite crime-fighting duo can't possibly be outdone, ABC decides to release the promotional photos of the highly anticipated Hamptons episode, titled "Murder, He Wrote" and scheduled to air on October 15.
In this episode, Castle takes Beckett to his beach house in the Hamptons for a romantic weekend, but they get interrupted when a dying man stumbles into their backyard and falls into the pool. Unable to resist a murder investigation when it literally stumbles into their backyard, Castle and Beckett join forces with the inexperienced Hamptons sheriff to solve the crime.
While I am super excited to watch this episode, I wonder if the storyline will solely be in the Hamptons or if it will follow the pattern of the other two episodes that took part of the team away from New York City, showing the rest of the characters back in Manhattan. If that's the case, will Ryan and Esposito get involved? And if they do, how will Castle and Beckett explain why they are in the Hamptons for the weekend without exposing their new relationship status? Also, I wonder if Martha and Alexis will know about them by the time their romantic weekend comes around.
So many questions, right? Got any theories? Tell me all about them in the comments session below.