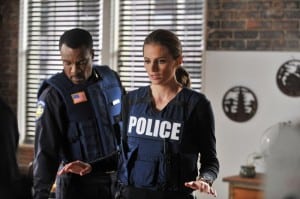 I know this is an episode you have all been eagerly waiting for. I know I have too. Who would have ever thought that a bonus episode could create so much hype, right? But that's what the April 22 Castle episode, "Still", has been doing. As most of you already know, our dear Detective Kate Beckett will be in serious trouble when she steps on a pressure sensitive bomb and her life literally depends on her staying very still.
ABC has released that "while the team searches for a way to disarm the explosive, Castle distracts Beckett by arguing with her about who fell for whom first". So, is it safe to assume that we are finally going to hear those long awaited three little words from our dynamic duo? Or are they going to play it like it has already been said off screen? I, for one, will be really peeved if they go with the second option.
So what's your theory? Tell me all about it.