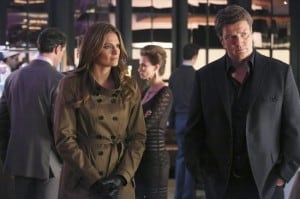 You have barely had time to see the promotional photos for the highly anticipated episode "Still", am I right, Castle fans? Well, ABC seems to be on a roll on the Castle front tonight because they have just released the promotional photos for episode 22, titled "The Squab and the Quail", scheduled to air on April 29. Can you believe we are already so close to yet another finale? This season has completely flown by.
On this episode, Beckett is assigned to protect Erik Vaughn (guest star Ioan Gruffudd aka Mr. Fantastic), a charming billionaire entrepreneur whose life is in danger and for some reason she's forced to reflect on her relationship with Castle which has begun to plateau. Meanwhile, consumed with jealousy, Castle goes to extraordinary lengths to solve the case and separate the two of them.
Not sure what I think about it just yet. Just another jealousy episode? Something more? What do you think?