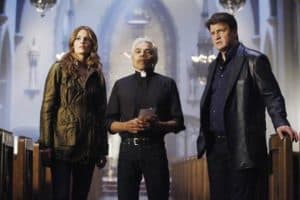 With only two episodes left before the summer hiatus starts torturing us, Castle fans have been in an uproar about the latest story arc which has left our favorite dynamic duo at odds with each other. After Detective Beckett's secret came out accidentally – and completely unknowingly to her – Castle has been acting like a jackass (as Kate so wisely put it) and basically ignoring her.
We get it; the guy is hurt and thinks he has just been rejected by the girl he is head over heels in love with, but I think I speak for most of the fans when I say that we are so ready to see that arc over and done with and Castle and Beckett back together again. Well, it seems that we won't have to wait very long at all.
With a very suggestive title – "Always" – the season finale will make those two put their cards on the table. From the promotional photos ABC has just released, it seems that all is well in Caskett land (and if those rumors floating around are true, there is a very real possibility that the crime fighting duo will finally get their act together and come clean about their feelings.
It looks like we are in for quite an emotional rollercoaster ride because, as usual, we are touching back on Beckett's mother's case.
Use the arrows above to browse through photos for the season finale of Castle, airing on May 7 at 10:00 p.m. ET/PT on ABC.