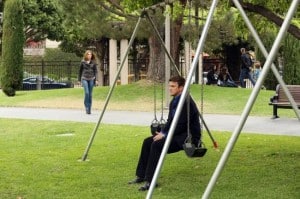 ABC has just released the promotional photos for the Castle season finale. Scheduled to air on May 13, the episode titled "Watershed" will deal mostly with Castle and Beckett's relationship, at least according to creator Andrew Marlowe. In the final installment of season 5, an interview with a high-profile federal law enforcement agency forces Beckett to reconsider what she wants out of her job — and out of her relationship with Castle. Meanwhile, the body of a young woman is found floating inside the water tank of a skid row flop house, but as the team investigate, they discover that her final resting place is just one of many strange things about her death.
There have been several interviews floating around these past few weeks about the upcoming season finale and about how – just as the title says – it will be a sort of a point of transition for our dynamic duo. Given the events of "The Squab and the Quail" and tonight's "Still", I am curious about how they are going to deal with their issues and what exactly is going to push them over the edge to maybe have that conversation we have all been waiting for. I have my theories already, but I am not sure they are all that plausible.
What is your take on this? How do you think the season is going to end? Go crazy on the comments below.