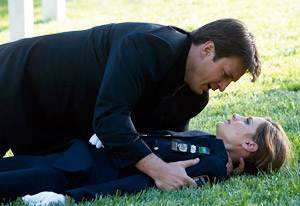 Looks like things are finally being released faster about Castle. Just this past week we had the promotional cast photos for season 4; earlier today an amazing little clip was released featuring our favorite dynamic duo; and just now, ABC has aired the first promo for the season premiere with a lot of new footage. Finally.
And I have to say, It looks like things are going to be pretty intense from the get go. It seems the guilt is already weighing on Castle's shoulders. After all, if he hadn't opened Johanna Beckett's case again way back in season one, none of this would have happened. Captain Montgomery would still be alive and Kate wouldn't be fighting for her life after getting shot in the chest during Montgomery's funeral.
From the new footage, we got to get a glimpse of the already infamous fight between Castle and Josh (which I still hope Castle kicks his sorry ass) and Kate flatlining in the hospital. All in all, it was all pretty intense and dramatic and I need September 19th to get here right now. This hiatus is seriously killing me and I know you guys feel the same way.
I will upload a better quality video as soon as I find one. If you guys find it first, send it my way and I'll replace it here.