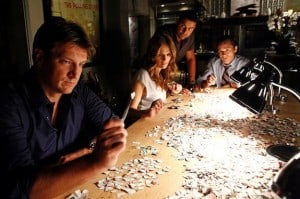 Can we all just take a moment to soak in the fact that all that we watched in the season 4 finale actually happened and that TPTB are not yanking our chain anymore?
After weeks and weeks of waiting – is this the longest hiatus in history or what? – ABC has finally released the first promo for season 5. Castle and Beckett are really, really together and it wasn't a dream. I am sure something is going to happen to burst their little bubble of happiness, but I am glad that we are at least getting the morning after scene.Watch the clip below.
[youtube]http://www.youtube.com/watch?v=gqsPrNU1d4I&feature=player_embedded[/youtube]
As most of you are aware of by now, the season 5 premiere – scheduled to air on September 24th – will dive right back into Beckett's mother's murder and I seriously hope we put this thing to rest once and for all. Let the girl be happy with her new beau, for Pete's sake!
TVLine released earlier this week the first promotional photo of the new season and I was actually surprised to see the gang all working together in the very first episode. I am really curious as to how they are going to resolve the tension between Detectives Ryan and Esposito because things did not end well for them last season. Also, I have to say I can't wait to see how everyone is going to react when they find out that our favorite crime fighting duo has finally done the deed. What do you guys think? Sound off on our brand new Castle forum.
Is it September 24th yet?