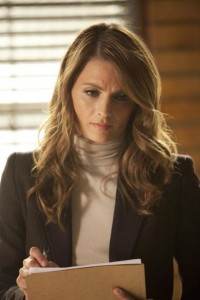 Well, it sure has been a while, right, guys? How are you all dealing with this horrendous hiatus? I, for one, have decided to take a step back from all my usual shows and try to enjoy others that I hadn't had a chance to watch before (which has led to a whole new obsession with another show, but we can talk about that elsewhere). And it has also been two months since that awesome Castle season 4 finale, so I am guessing most of you have had the chance to think and process all that went down in that episode and season 4 in general.
That said, let's get to the point of this article. Since it's been a while since the last Castle episode and we still have a few long weeks to go, here is something to keep us occupied until then:
What do you want to see in season 5?
To be completely honest, this has been a tough question to answer. Now that Castle and Beckett are together, I just got this huge blank when I stopped to think about what I want to see next because I had been waiting for that for such a long time. I admit that I am a half crazy excited for season 5, but I am also a little terrified that things will go south. After all, great shows have taken the plunge after their leads got together and I really, really hope that Castle succeeds in navigating this relationship transition waters safely.
But let's not get pessimistic here. Hopefully things will work out just fine for our favorite crime fighting duo, so let's get down to business already. Here is what I want to see in season 5:
Castle and Beckett succeeding in having a grown-up relationship — no more life-altering secrets for Pete's sake;
Beckett's mom's case solved once and for all;
More info about Castle's father. Is he really CIA or was Sophia Turner bluffing?
More Kate/Lanie time;
Give Gates something to do or get rid of her already;
Same goes for Martha and Alexis;
Alexis being less annoying;
That's all what I can think off the top of my head. Now the ball is on your court. What do you want to see in season 5? Are you afraid of how this new phase will be handled as well?
Tell me all about it in the comments below. We still have two long months to kill.