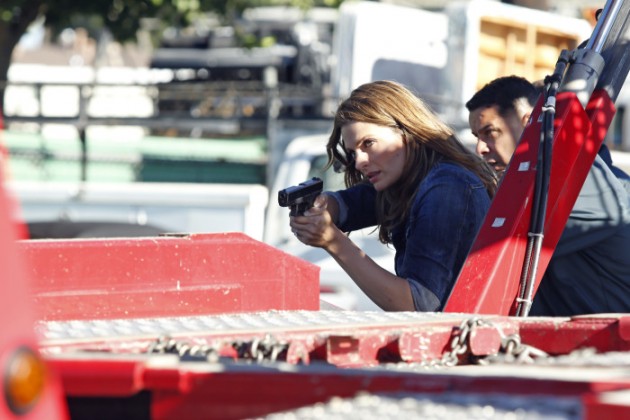 After having what should have been the best day of her life ruined at the end of season six of Castle, Kate Beckett is a bride on a mission, as one can see in these new photos from the upcoming seventh season of Castle. The seven released photos from the show's season seven premiere (think it was intentional—seven and seven?), which is titled "Driven," show Kate's search for Rick, and she is accompanied by Detectives Esposito and Ryan, all three of them raising their guns, prepared for whatever (or whoever) is coming their way.
As many Castle fans obviously know, last season's finale concluded with Rick's car in flames after he was presumably forced off the road by a mysterious SUV. The main questions on fans' minds since season six ended (because we know Rick isn't dead) are how, why, and where did he vanish? And who, if anyone, took him?
Countless different theories have come out about who the true culprit behind Rick's disappearance may be, with some people believing it's the 3XK Killer, who is somehow still alive, while many others have hypothesized that it might be Rick's CIA father, Jackson Hunt, who needed to protect his son from some unknown threat. There's even Castle fans out there who are going with the very out-of-the-box idea that Rick faked his own death and didn't want to through with the wedding for some convoluted reason.
No matter what or who was behind it, the answers will soon be shared when Castle returns for season seven on Monday, Sept. 29 at 10 p.m. on ABC. Check out the rest of the premiere photos below.
Photos via ABC