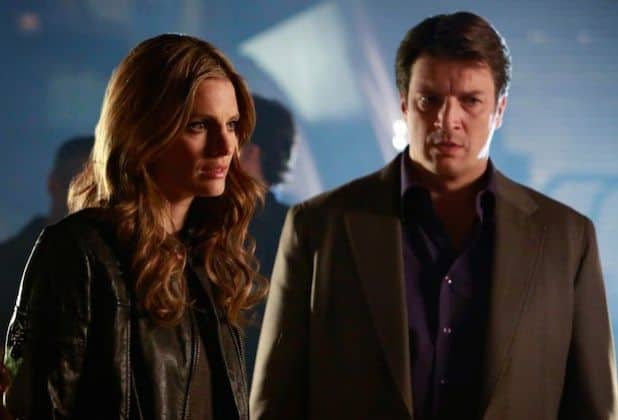 There have been many bits of Castle season 8 news regarding the second half of the season.  For those who've been keeping up I'm sure they've got much on their minds.  Besides, even if you have been reading the spoilers, sometimes it's good to see them pieced together on one page – it helps create an overview of what's ahead.  For those who haven't kept up with the spoilers, now is a good time to catch up!
The easiest piece of news to impart is to let you know when Castle will be returning.  That date has jumped around a lot, but as of  January 19th the official return is February 8th and the episode airing is called "Tone Death."  However, wait, there's more!  TVLine also scooped that the following week there will be two episodes of Castle   They are going to air a Castle episode on Sunday, February 14th after a special episode of The Bachelor, and then a new one in it's normal 10pm slot on February 15th.
Castle Spoilers for "Tone Death"
Yes, the Castle episode "Tone Death"will involve music.   Entertainment Weekly spoiled  the plot last year that Corbin Bleu from High School Musical will be the guest-star and that the case is about "a murder in the world of competitive acapella."   However, it's the teaser that has fans buzzing!
https://www.youtube.com/watch?v=2fpzS2XPJIc
Hot stuff, right?  This is definitely a welcomed change.  The fall split up of Detective promoted to Captain Kate Beckett (Stana Katic) and famous writer turned not-so-famous P.I. Richard Castle (Nathan Fillion) was deemed a failure by the fans, the critics, and the ratings.  So the new showrunners Alexi Hawley and Terence Paul Winter not only decided to end that storyline, but with Caskett back together the writers decided to turn up the heat!   Hooray!  Viewers can look forward to their favorite crime-fighting couple catching bad guys and hanging out in the bedroom….
The thing is, Caskett isn't exactly "back together." Â It's a secret, remember?
Question: Any scoop on what fans can expect when Castle returns (on Feb. 1*)? —Rachael
Ausiello: You can expect… Rick not to be hanging out in Kate and Vikram's secret lair at the vacated strip club. Because although he is now in the loop on the LokSat sitch, "The idea is that he's not actively involved," says co-showrunner Alexi Hawley. "He is in the know and [Beckett] isn't keeping anything from him, but there is nothing actionable yet for her to get him involved" – the operative word being "yet." As co-showrunner Terence Paul Winter notes, "That of course will change as we go on in the season."
(*At the time Castle was returning on the 1st, it's now the 8th)
As Kate and Rick pretend to stay broken up (for LokSat's sake) while secretly together, "There's a lot of 'lost time to make up for,' so to speak, in the bedroom. So there is some friskiness," teases co-showrunner Alexi Hawley. When not canoodling, they'll tackle a case in the word of competitive a cappella (cue Susan Sullivan and Jon Huertas showing off their pipes!)
Hmm…that pretending to be broken up "for LokSat's sake" explains Beckett pretending to slap Castle in the promo! Â It also means that the show hasn't abandoned the faulty premise that there's a reason for Beckett to appear separate from Castle – which means we can expect them not to be working cases and hanging out in public much. Â Apparently the mastermind of LokSat is smart enough to have sent several teams after Beckett, orchestrated the killing of her entire team, and kept abreast of her going to visit the jailed senator – but will have no idea that Beckett is sneaking over to the loft to have sex with Castle. Â The holes in this storyline continue to make it difficult to buy the season in general.
Still, at least we won't have Rick trying to win back Kate! Â With promos like this one, it's fair to say that ABC's Castle is trying to win viewers back. Â Looking at the first promo for this episode the shift in emphasis is clear:
[youtube https://www.youtube.com/watch?v=3Dyh-fucRt8?rel=0&showinfo=0]
Moving from featuring the frat boy "fun" moments to pure Caskett shows that the network has been paying attention to what many have been complaining about. This is a good thing, but will this awareness and (hopefully) tonal shift be enough to draw in viewers again?
In my review of the Castle season 8 winter finale I wondered about how much forgiveness Castle fans had left. The answer may be in how much the reconciliation takes the show back to not only more of  Caskett, but of Castle and Beckett working together on screen with that classic wit and rapport.  The theme of the Caskett relationship ­that's carried the show (until this season)­ has been Castle is the writer who's inspired by his muse, Beckett.  Their catchphrase, "Always" came to mean that Castle and Beckett always are there for each other, have each other's backs, and back each other's plays.   Much of these things got thrown away in the first half of Castle season eight with Beckett's illogical reason for walking out.  If Hawley and Winter manage to bring back the theme of the Caskett relationship, as well as the dynamic of Caskett being "Always," they may have a shot.
Beyond "Tone Death" – More Castle Spoilers
So does having a sexy Caskett scene in a promo mean the structure of the show viewers have come to know and love prior to season 8 will be as well?  I want to believe… let's take a look at the Castle episode spoilers we've gotten so far. (These are all from various TVLine articles.)
Castle Spoilers for 8 x 10
It's fitting that the unprecedented first-run airing of Castle on a Sunday is also an "unprecedented" type of episode called, "Witness for the Prosecution."
For the first time ever in Castle history, you go into a courtroom, you actually see a trial based on a case," co-showrunner Alexi Hawley tells TVLine.  And while the murder case at hand is not one viewers have seen unspool on-screen, the testimony of one Richard Castle promises to take viewers on a trip down memory lane. "I think it will be a treat for our longtime fans," says co-showrunner Terence Paul Winter, "because it refers to several things that have happened in the last few years.
Winter also noted that Castle's testimony won't go smoothly, which Hawley says causes some "fallout" and "damage control."
The elements being emphasized for this don't sound great for a return to the heart of Castle.  It's not that they are trying out a different approach with courtroom situation – that actually could be interesting.  Will there be Caskett? Probably.  That doesn't mean we'll get a lot of Castle and Beckett working together.  The season 7 P.I. arc made sure to throw in a couple of  flirtatious and sexy Caskett scenes, but then we didn't get much of them together at all.
The not really working together isn't what scares me though.  Instead it's the referring to things that have happened in the last few years.  In season six the episode, "Still" was an episode that used clips from the past, but it didn't try to change the past narratives.  The new showrunners have shown that they like to try and rewrite past seasons of the show – and those rewrites have not been good for the show at all.  ABC seems happy to go along with this revisionist writing.  In the latest article on the ABC website, their listing of the most romantic Castle and Beckett moments does not include the most epic romantic moment in the series.  That's right, the "Shut the front door" scene from Castle season 4 finale, "Always" isn't included.  Instead, they've listed the scene from Castle season 8 episode 7 – which is nowhere near as meaningful or passionate.  You can check out the list yourself:  www.abc.go.com.  With these kinds of things going on, my concerns about this episode, and this series, definitely increase!
Castle 8 x 11, "Dead Red" Spoilers
The cold world officially ended in 1991, but Russia (well, the former Soviet Union) is still a favorite arch-enemy of the U.S. for fiction writers.  "Dead Red."  There's not much being said about this one – so maybe it's more Castle-like?  We can certainly hope so!  All that's been said is Nick E. Tarabay  (from the Starz series Spartacus) plays a Russian agent who comes to work on an investigation regarding the death of a Russian national.
Castle 8 x 14
The spoilers for Castle 8 x 12 & 8 x 13 aren't much more than the titles, but these TVLine spoilers are explosive for 8 x 14.
The actor Gerald McRaney from the hit 1980's show Simon & Simon will be recurring in several episodes as…wait for it…the head of a legendary and secretive private detective society.
Summer Glau, whom Fillion fans know as River Tam from Firefly, will be playing a "a provocative private detective in Los Angeles" that competes with Castle to solve a mystery.
Note it's not that other P.I. competes with Beckett and Castle. Â That's because Castle will be in Los Angeles without Beckett. Â This is the TVLine spoiler's exact wording:
Episode 14 will send Rick, Alexis and Hayley to Los Angeles to investigate a murder that has ties to an NYPD case. Also in that hour, we discover that a familiar face – though not Kate's (yet?) – may be linked to Castle's wedding-day vanishing.
The last time time we saw Castle in L.A. was the epic & classic season 3 episode, "To Love and Die in L.A." Â Just for nostalgia's sake, here is the original promo for that episode, pay attention to the credits on the bottom.
That's right, Hawley and Winter both worked on this episode. Â They also worked on "Always" which this season's story arc sadly has made irrelevant. Beckett's realizations in "Always" are turned into nothing in season 8. It's like she never had them. Now we get to have Castle in L.A. with three gorgeous women: a competitor, a disgraced London cop, and his hot daughter (I wonder which of them will be the one coming out of the pool this time?) – but not his wife. Â On top of that we're going to revisit the awful Castle missing mythology that dragged down season 7, and there's now some kind of "secret P.I. society." (Is that "S.P.I.S." for short?) To say I'm dreading this one is putting it mildly.
When these spoilers came out about 8 x 14 the idea that ABC was looking at possible spinoffs certainly crossed a few people's minds – and that was before ABC Entertainment President Paul Lee made his comments about the show.
At the recent Television Critics Association winter previews (TCA'S)  various news outlets – including Entertainment Weekly - reported that Lee was considering ways to continue Castle if one or both leads were to leave the show after season 8:
We'd love for Castle to keep going for many years to come," Lee said. "There are a lot of conversations going on about how we can do that. I don't want to give glimpses to where they go, but there are lots of good ideas in there. I'm feeling optimistic that we've got some good ideas.
Frankly, Lee doesn't have to give glimpses of where they go.  It doesn't take much to suspect that the idea of a "Castle P.I." spin-off featuring Fillion and/or Molly Quinn (Alexis Castle) is on that list of ideas.  The show first tried the P.I. idea in season 7, but that abruptly ended after three episodes. (Was that the plan, or was it because it had such low ratings?  Only ABC knows.)  An episode featuring him and Quinn solving a murder on a plane while Beckett was grounded aired after that.  It didn't do well ratings wise, but this season we have Castle back as a P.I. – and he's paired with Alexis as his super-sleuth partner.  There's also been the addition of the disgraced London cop with no scruples, Hayley Shipton (Toks Olagundoye).  Hayley's been popping up to work with Castle and Alexis in a few episodes as well.  Is this the only possible spin-off idea floating around? I doubt it, but it's pretty transparent that this is likely a frontrunner.  Unfortunately, trying to set up a spin off is the antithesis of trying to fix Caskett.
Castle 8 x 15
Perhaps it's to balance out how little of Beckett is in the previous one, or maybe because she's used less in general, but episode 8 x 15 Â has a strong storyline focused on Beckett. Â The spoilers say Beckett will be returning to the police academy where "she was a star" during her time there as a cadet. Â (TVLine). Â A part of the story will involve Beckett mentoring a young cadet – and no, Alexis hasn't joined the academy. Â  She's being mentored by the cop that was kicked off the force, remember?
The buzz on this episode has been good as historically episodes that feature Beckett are very strong dramatically. Â It's directed by Rob Bowman – which also points to a strong dramatic episode. Â Plus there's this instagram post from Katic:
This photo definitely reads dramatic! Â Â Hopefully this episode doesn't have any ugly character surprises like Castle 8 x 2 did, but even so, 8 x 2 was great until that ridiculous ending. Â Bowman & Katic ride again!
Castle 8 x 16
This episode is called, "Heartbreaker" and I have a sad feeling it may be just that. Â Will this contain yet another opportunity to somehow swipe at the Kate Beckett character? Â Possibly.
Will there be any Lucy and Beckett interactions on Castle? —Barry
"It's funny you ask that — in [Episode] 816, we will be doing a little Beckett/Lucy/ Castle [interaction], a bit of jealousy," co-showrunner Alexi Hawley shared when I hand-delivered your Q. "Your readers are very perceptive!" (Yes, yes they are.)
Seriously?  I disliked "Lucy" when it was first introduced in Castle 8 x 3. My initial reaction to the "Lucy" gag was that it was a way of suggesting that a machine could replace Beckett in Castle's life as it is reminiscent of  the Spike Jonze film Her.  Even though it's being played for laughs the underlying thought that is represented by Lucy is a bit too Stepford Wives  (the original one) for me.  Besides, having Beckett being  jealous is a ruse I'm tired of in general – it's been used more than enough in this series. However, regardless of the "been there, done that" aspect of this spoiler, having her be jealous of a machine is insulting in terms of who Beckett is.
The Wrap Up
That's all the spoilers that have been released so far, and they take us up to the season's final arc.  Over at www.tvinsider.com Marisa Roffman had the chance to talk with the showrunners after the TCA's about the season wrapping up and where it might go.  The one thing they don't mention by name is ending it.   It's about the complications of not knowing who's coming back.   This is something I wish they'd rethink.
The promo for "Tone Death" – which will be airing February 8th – has some fun and sexy clips in it. Â All would agree that this is a positive step up from the first half of Castle season 8. However, Â the Castle P.I. arc in season seven did as well and those episodes were (at the time) the lowest rated episodes in series history – proof that a hot Caskett scene isn't what makes a Castle episode great. Â Scenes like that are frosting, not cake. Â Leading viewers on with the hope that the show is returning to its roots, when everything said by the showrunners and the head of ABC implies otherwise, makes it seem like fans are being set up for yet another heartbreak.
Why not wrap the show in a way that pays homage to the show people fell in love with?  Castle has been compared to the Fox show Bones on many occasions since both shows "borrow" from the will they/won't they formulas of shows like the 1980's TV hits Moonlighting and Remington Steele, which in turn "borrowed" from screwball comedy films from the 1930s and 1940's.  Now in it's 11th season the head of Fox had some very different ideas about how to handle things if the show's leads decided not to return, a point that www.ew.com makes in their article on Fox at the TCA's.
Unlike ABC, Fox made it clear they value the show's viewers and feel those viewers deserve a "meaningful" and "satisfying" ending, one that  – whether it's season 11 or 12 – they want to make sure there's time for the writers to craft.  Which season depends on the lead actors David Boreanaz and Emily Deschanel – because Fox point-blank won't attempt to do a season without the leads.
For Fox, the decision is likely from voice of experience.  The final season of the original X-Files run tanked when they tried to retool it with just one of the leads and bring in other characters.  What exactly is, "tanked"?  The show went from a ranking of #31 for season 8 to #63 for season 9. ( www.wiki/The_X-Files.)   Granted, Fox may not have learned anything about short-changing cast-members – but that's a different story (New York Times (2006) 'X-Files' Are Closed; a Lawsuit Opens ).
ABC may not have taken advantage of their own past experiences – the idea of splitting up Castle and Beckett for an outlandish reason so that the writers could "recreate" the tension from earlier seasons sounds very much like the logic used in the final season of the ABC show Moonlighting –  but they would do well to take note of Fox's.  There's still an opportunity to turn this Castle ship around.  Drop the spinoff plans and let Castle wrap up in a way that is true to the great show it was and is great for the fans.  This would mean ending in a way that's not tied to the failed ideas of Castle P.I. and these new mythologies of Lokstat and whatever new conclusion they've given Castle's disappearance.  Stick with more Caskett-themed episodes and the kind of witty banter displayed in the second "Tone Death" promo.
Shows that end on a high (note that the last episode of the original X-Files made sure the leads were together and happy) leave fans with a positive final impression.  If Castle takes the route of concluding the series in a way that gives Castle and Beckett their happily ever after a decade-plus from now ABC could be reviving Castle with a lot of happy buzz.
That's it for now on Castle season 8 news and views.  What are your takes on what's coming up on Castle? Let me know in the comments!