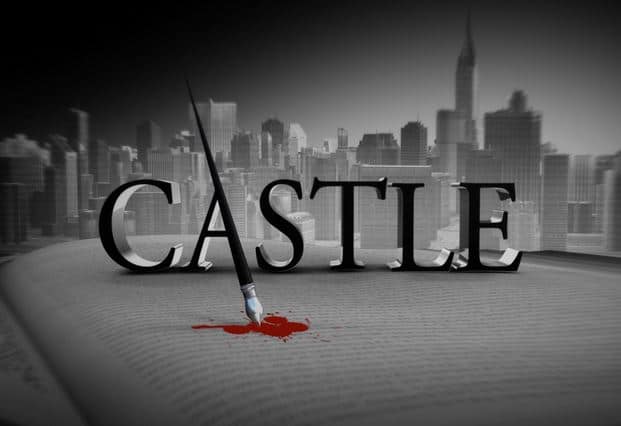 Just in time for November sweeps ABC's Castle is back from its three week hiatus. These Castle Season 8 spoilers will give you a heads up about what you can expect, and the last one is also the winter finale!
Monday, November 9th: Castle Season 8 Episode 6, "Cool Boys"
The title is likely a play on some aspect of the murder case and the fact that the guest star is Adam Baldwin. Castle fans are aware that before Nathan Fillion played writer Richard Castle he, along with Baldwin, were on the short-lived cult classic tv show Firefly. The two are known as being pals in real life as well. There's also the fact that Captain Kate Beckett (Stana Katic) will only be in one scene of this episode. TVLine says that the Captain will be out of town at a meeting – which means this episode will really be focused on Castle and Slaughter. If there was any doubt about that, the thirty-five episode photos that were released thirty-one include either Fillion, Baldwin, or both. None of the other four include Beckett or any other women. "Cool Boys" it is…. Here's the story synopsis:
Detective Slaughter (guest star Adam Baldwin) returns to enlist Castle's help in solving a high-stakes robbery case. But when a body is found linked to the crime, Slaughter becomes the number one suspect in the heist turned murder, while Castle has to determine whether he's guilty or help to prove he's innocent.
The last time we saw Detective Slaughter was back in the Castle Season 4 episode, "Headhunters," where it was made very clear that Slaughter was a rouge cop not to be trusted. In this sneak peek Martha Rogers (Susan Sullivan) and Alexis Castle (Molly Quinn) – Castle's mother and daughter – remember just how bad it was when Castle worked with Slaughter

Nevertheless, as this sneak peak shows, this time around Castle is apparently willing to screw over detectives Kevin Ryan (Seamus Dever) and Javier Esposito (Jon Huertas) because he trusts Slaughter and his own instincts (which are what got him in trouble the last time) over those of Ryan and Esposito.
This is really sad. The last time Castle worked with Slaughter, if Ryan and Esposito hadn't to come to Castle's rescue Slaughter's recklessness, lack of ethics and basic insanity would have gotten Castle killed.  Yet, here's this Castle Season 8 spoiler telling us that Castle trusts Slaughter more than Ryan and Esposito.  In an  Entertainment Weekly interview co-showrunner Terence Paul Winter says, "We're going to see a new side of Slaughter that we weren't privy to in the first episode that we saw him in."
What could possibly erase the behavior we saw from Slaughter that we say in Season 4? Co-showrunner Alexi Hawley doesn't give us any clues about that, but he does explain to TVLine why they wanted Slaughter back.
"So what we really tried to do with him and Detective Slaughter was have a bit of the 'guy conversation' about 'What's happening with your wife?' – but also really flip that guy perspective on its head, in the same way that we try to flip the Slaughter character on its head a bit."
This sounds like another frustrating Castle Season 8 disconnect from the previous seasons being done to further the season's basic plot conceit about Castle and Beckett being split up. Even if buying the whole, "Castle has no clue what's going on with his wife" idea, why would Castle talk to someone like Slaughter as opposed to say, the happily married Ryan?
Monday, November 16th: Castle Season 8 Episode 7, "The Last Seduction"
There are no sneak peaks for this yet, but there is a story synopsis….
"In order to hunt down the brutal murderer of a grifting seducer, Castle and Beckett must investigate New York's elite. Meanwhile, Castle plans to surprise Beckett on their one-year wedding anniversary."
…and some episode stills: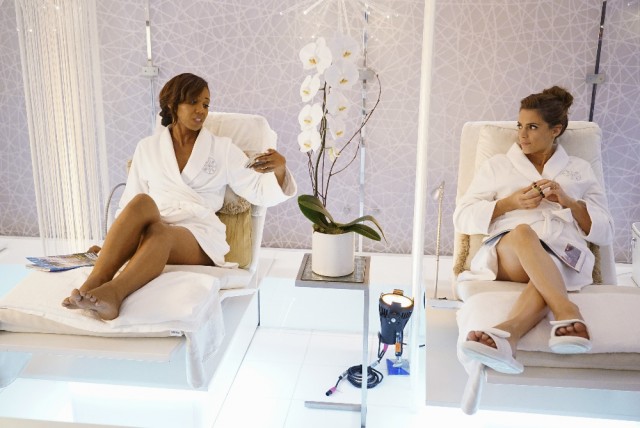 I'm hoping the photos featuring Hayley Shipton (Toks Olagundoye) with Beckett at a spa are coincidental meeting and that they aren't actually there together on purpose. Whether it be to relax or to work undercover the fact that Beckett isn't hanging out with best friend M.E. Lanie Parish (Tamala Jones) is a bummer.
Meanwhile, it looks like Castle will be teamed up with Ryan and Esposito.
As for Castle planning to surprise Beckett, it's all part of the same premise that Castle is "trying to win his wife back." If you buy that premise, then this episode won't annoy you at all.
Monday, November 23: Castle Season 8 Episode 8, "Mr. & Mrs. Castle"
According to TVLine, the showrunners confirmed that the title is a nod to the Brad Pitt and Angelina Jolie movie Mr. & Mrs. Smith." We'll have to wait for more information on that, but I can say that part of the episode was filmed on the cruise ship The Queen Mary which could be fun.
The other news from TVLine is that the episode will be introducing another new character.  Caleb Brown is "an idealistic public defender whose criminal clients put him at odds with Beckett and the 12th Precinct."  …I didn't see any icebergs mentioned, but this news makes me hope that the specter of a giant cruise ship isn't a bad sign for Castle.
There will of course be more information on "The Last Seduction" and "Mr.& Mrs. Castle" before they air, so you can check back here for those updates.  However, after November 23rd Castle will go on winter break for eleven weeks.  It's not a secret that the ratings for Castle Season 8 have not been good. Hopefully, this long hiatus will give the show time to reflect and regroup for the second half of the season that starts in February 2016.
Are you ready for these November sweeps Castle episodes? Â Let me know what you're hoping for as we head to the Castle winter finale!
For more news and reviews of Castle and other TV shows you can follow me on Twitter.
[Photo credit: Richard Cartwright/ABC]