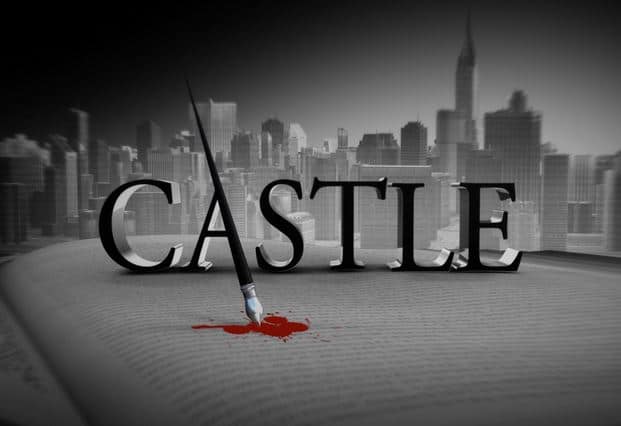 We could call these Castle Season 8 spoilers for "The Last Seduction" the "penultimate spoilers," as after this airs the following week is the Castle winter finale.  The series then goes on hiatus until February.  What can we expect from this next to last episode (for the fall)?  Well, the new showrunners Alexi Hawley and Terence Paul Winter have been promising all kinds of things.
This season has not been going well for Castle.  It is fair to say that the storyline decisions made by the showrunners have not been well received as the show's ratings have hit an all-time low.  In particular, many online have harped on the choice to split up Captain Kate Beckett (Stana Katic) and writer Richard Castle (Nathan Fillion).  In a recent TVGuide.com article, Winter promises that a change is coming and that "viewers are going to be very satisfied."
When reading the ABC story synopsis it sounds like a very straightforward story, one could even say it offered some hope.
In order to hunt down the brutal murderer of a grifting seducer, Castle & Beckett must investigate New York's elite. Meanwhile, Castle plans to surprise Beckett on their one-year wedding anniversary.
Castle and Beckett actually working together? Â Before you get too excited, take a look at this sneak peek:
I mentioned in my November Sweeps Castle article that I was hoping that the fact Beckett ends up in a spa with mercenary, disgraced cop, "security specialist," Hayley Shipton (Toks Olagundoye) was accidentally. Unfortunately it is very much on purpose.  Captain Beckett goes undercover with Hayley because not only does the captain have the time for such an operation, but apparently they're no one on the entire NYPD police force that she could recruit for the job. TVOvermind reader Vince pointed out to me that last week on NCIS: LA that show's crime-fighting couple went undercover at a spa….  An awkward spa scene is a standard TV trope, but it's a lot more fun when you have a real investment in the characters involved.  Had this been Beckett and Castle undercover, or even Beckett and Lanie (Tamala Jones) I'd have an easier time with the idea of captain Beckett going undercover and some investment in what takes place between the characters.  As it is this seems like nothing but a chance to put Katic and Olagundoye in towels and tease the audience with the idea of them falling off.
Because of the above I'm not expecting a lot of Castle and Beckett time.  However, that doesn't mean there won't be a great Caskett scene, right?   In theory, the possibility of  a Castle & Beckett reunion during "The Last Seduction" should be making this Castle fan cheer.  If only it were that simple.
Forget all the other questionable plots and changes that have occurred in this season – including the breakup.  Underlying all of the them is that Castle and Beckett are so out of character I don't even feel like I've actually seen Castle or Beckett since near the end of episode 8×2.   The entire reason Beckett has left Castle is not only contrived, but illogical.  Castle's reactions to her leaving are equally out of character.  From the moment they had Beckett walk out on Castle all I could see was the bad writing forcing the characters into behaviors that make no sense given their history, and that made no sense given the facts as presented.  It's like watching a bad dream. The faces are the same but things just randomly happen without logical reasons and characters keep repeating things about why Beckett and Castle are doing what they're doing – as if it's going to justify the behaviors and give them merit.
In an interview with EW.com, Hawley had this to say about Castle 8×07:
I know the Nov. 16 episode marks Castle and Beckett's first wedding anniversary. How are they going to celebrate? Are they going to celebrate?
HAWLEY: That was our challenge coming into that episode obviously given the parameters what we've set up. What we have to keep in mind is that, even with the obstacle in their way, both of them are still desperately in love with each other. So the want is there, it's just about figuring out if there can be a how, so we definitely wanted to stay true to the obstacle, but at the same time, maybe give them a way to figure out how to celebrate.
Nothing in that, or in other showrunner comments I've read  give any sign that they realize there are basic flaws in the structure of this "obstacle" they've created for Castle and Beckett.  That's why the idea of some romantic reunion moment happening is a problem.
For instance, I can already hear people wondering why Castle is still chasing after Beckett? Even though the writing structure is unsound about why she's left, many are mad at the character because she's left him and not told him anything about what's going on. (Even when you get it's the writing that's bad, you're still stuck with the canon.) For those fans angry at Beckett for reverting to her Season 3/Season 4 self in this crazy Castle Season 8 plot, the promo for "The Last Seduction" will have them seeing red!
Really, "Castle falls all over himself" to give Beckett an anniversary surprise? Yes, he does.
Nevermind Castle trying to win Beckett back.  The thought that Beckett could be considering a divorce was quite a blow.  However, if you look at the expression on Kate's face, and where she is, it doesn't look like she's viewing the ad for herself.  Instead, it looks as though the thought of a divorce makes her very sad.  Remember, the showrunners are pushing their flawed idea that "Beckett  had to leave him in order to protect him –  but still loves him" scenario.  In the confines of their faulty plot it all adds up.
Last week, Castle was given advice by detective Ethan Slaughter (Adam Baldwin) on how to handle his marriage troubles. Part of the advice was to "quit asking permission" to be let into what's up with her. Being that Castle has been doing everything possible to cross Beckett's boundaries to "win his wife back" this is hardly a strategy change. In the sneak peek below Castle has enlisted detectives Kevin Ryan (Seamus Dever) and Javier Esposito (Jon Huertas) in on the scheme to surprise Beckett and win her back – just as he has gotten them to help him work on cases to get closer to her. (If you need a refresher on last week you can catch up here.)
I suspect that all of this surprise planning is supposed to be funny and cute – and it would be i if they were together – isn't going to go over well with some viewers. Â I'm also concerned about how Ryan and Esposito will fare in this episode. Â Thus far the two have been turned into a pair of incompetent officers used almost entirely for comic relief or to help out Castle. Â In the same Entertainment Weekly article mentioned above, Winter and Hawley explain how Ryan shooting Epso in the butt, which was clearly played for comic effect, is now supposedly going to have some serious but "fun" repercussions.
What is this I hear about Ryan and Esposito in therapy. How did you come up with this?
WINTER: It's a lot of fun. Here's the thing: Ryan and Esposito are brothers at the end of the day but like all brothers, sometimes they fight and especially when you're police officers and your lives are sometimes at stake it can sometimes get heightened and that's what happens with Esposito and Ryan. And when we see them in therapy, we're going to see two guys who are desperate, just like Castle and Beckett, to make things work but they can't figure out how.
HAWLEY: In the last episode we saw there was an unfortunate shooting and so the repercussions of that are spilling out into these next few episodes.
I haven't enjoyed what's been going on with the characters of Esposito and Ryan this season, and this doesn't give me much confidence that it's going to get better. Â  Still, they are the least of my concerns. Â Beckett being partnered with Hayley while Castle searches for a way to them to celebrate his 1st anniversary with his estranged wife is depressing.
If they manage to bring Castle and Beckett together it's not going to fix the plot problems that has negatively affected the characters. Â It won't make Beckett seem less crazy nor make Castle less silly and spineless. Â Unless they somehow backtrack and give a legitimate reason for Beckett's choices – one that is about real danger and not some nonsense about her being obsessive and falling for Jedi mind tricks – a reunion isn't going to feel great. Â Sure, I'll be glad this is part is over, but the tain of what's happened won't go away.
It's bad enough Castle screwed up the original wedding in the Season 6 finale (which is really when this show started to splinter apart) and didn't do a great job when they finally did get married. (The green screen, no friends, no words from Beckett's father, and an episode that somehow made doubts about getting married be Castle's, even though up until then Kate was the one that was having problems…but I digress.) Now we've got this set-up for Castle and Beckett's first anniversary.  I don't know why many shows think that telling the story of a happy relationship is somehow not what people want to see and instead bend over backwards to keep couples apart or split them up as quickly as possible. Starting with the 1980's show Moonlighting it's been proven over and over that doing so is a bad idea – and yet, Castle, here we are.
Want more news and reviews for Castle Season 8 other TV shows?  You can follow me on Twitter.
[Photo via ABC]