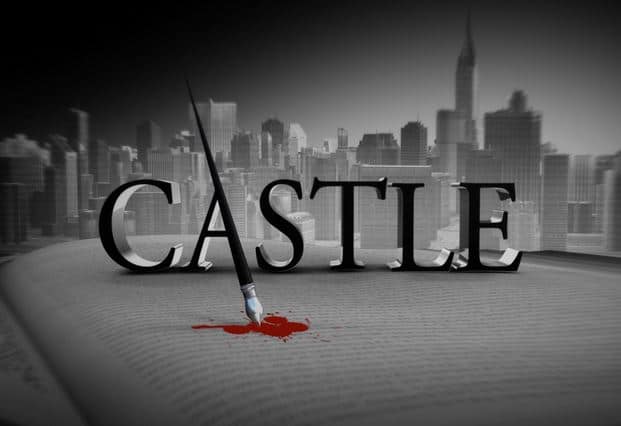 Monday is the Castle Season 8 winter finale!  After last week's episode, I'm sure fans are really curious about what Castle 8×08 is going to bring!  "The Last Seduction" had Captain Kate Beckett (Stana Katic) and writer Richard Castle (Nathan Fillion) take a "time out" from Beckett's self-imposed separation to celebrate their anniversary.  That was great, but soon after the sexy times, she had to leave because of a text  from her secret partner Vikram Singh (Sunkrish Bala).  Castle knows about the text, but not who it's from or what it means.  (If you want more specifics about last week, check out the Castle 8×07 review.)
That's all we know when Castle Season 8 Episode 8, titled "Mr. & Mrs. Castle" opens…and that's mostly all I can tell you because, yes, I've seen the winter finale.   There are a few tidbits I can share about that, but let's start with the basics.  What is this episode supposed to be about?  Here's the official ABC synopsis:
Castle and Beckett investigate the murder of a cruise ship entertainer, only to find themselves trapped at sea with the killer.
Talk about short and sweet! Â That doesn't tell you much!
Preview Spoiler #1
It's about the ship, but it's not all about the ship.
Now, do I mean the cruise ship, the relationship, or both….?
This first sneak peek gives us a little more information:
Obviously, Beckett did not invite Castle along to investigate with her. Â Those love sparks are definitely flying between them, but it's not like things have gone back to normal. Â The issues that came up for both of them last week are very much in play.
Here's another clue: the only people from this year's regular cast who don't have at least two scenes are M.E. Lanie Parish (Tamala Jones) and Castle's daughter Alexis (Molly Quinn).
Let's take a look at the second sneak peek:
The need to have at least one scene a season where is Castle surrounded by scantily clad women (women other than Beckett). It's a thing that's gone on since at least Season 2. Â Remember this from, "Deep in Death"?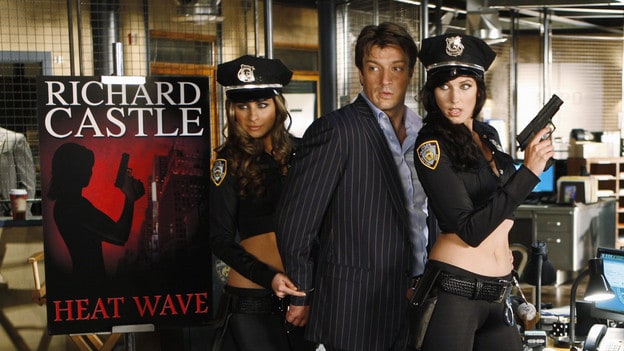 That was perfect for who Rick Castle was in Season 2. Â Since then, these kind of scenes have been hit or miss. Â The one in last season's winter finale was a total miss. Â This one is a definite improvement. Â As we saw, it's still on the burlesque side of things, but it's a classic kind of comedy sketch setup that showcases Fillion's physical comedy strengths without making him seem like the playboy from his younger years – or a guy that's easily distracted by half-naked women.
Preview Spoiler # 2
This episode is Fifty Shades of Gray 
Note it's "Gray" – not "Grey."  (Although…nevermind.)  If you're reading this spoiler article, chances are you're wondering whether or not you should tune into the Castle Season 8 winter finale.  Here's why I think if you've been on the fence all season you should see it.
Last week was an improvement.  At times "The Last Seduction" had a definite retro Castle vibe to it that was enjoyable.  There were problems, but at least it was going in the right direction.  There are several retro Castle things happening in this episode as well….  For instance, it has a solid mix of comedy, drama, and Caskett.
This is a make it or break it episode.  The new head writers Alexi Hawley and Terence Paul Winter have said there was a point to what they were doing – even though it seemed to make no sense – and that fans would appreciate it afterwards.   Viewing Castle Season 8 Episode 8 that will let you decide if they were right or not.  As I hinted at, there's a lot of gray areas in "Mr. & Mrs. Castle."  How much gray is okay? It's going to be different for everyone.  However, you can't decide if everything that's happened has been worth it if you don't watch.
Preview Spoiler #3
Beckett meets the new Golden Girls
All I'll say is this: get ready for some fun stuff there!  Also, speaking of golden girls, Castle's mother, Martha Rogers (Susan Sullivan) is marvelous throughout, and so are her clothes!  Castle costume designer Luke Reichle, aka Red Carpet Luke, really went all out!
That's really all I can tell you about the Castle Season 8 winter finale.   The review for it will be up here on TVOvermind by Monday 10 p.m. PST.   I look forward to reading what your thoughts are on "Mr. and Mrs. Castle," so do check in for the review.  Then in the comments you can let me know your take on the episode!
Want more news and reviews for Castle Season 8 and other TV shows?  You can follow me on Twitter.
[Photos via ABC]